Running your car on vegetable oil will save money and reduce your impact on the environment. It is possible to convert diesel cars to vegetable oil by simply installing a fuel modification system.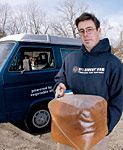 Greasecar make the Vegetable Oil Conversion System, an auxiliary fuel modification system that will convert any diesel vehicles to run on vegetable oil in any climate. Past Greasecar customers include Volvo, Range Rover and Volkswagen owners, you can see their cars on the Greasecar website
Greasecar kits cost $750 and can be bought online. They contain everything you need to make your car run on pure vegetable oil, including a hand made aluminum heated fuel cell, Quick-flush switching and 10 micron filter. They'll be suitable for tractors and trucks as well, and if you need a custom kit, Greasecar can build one to your specifications.
For more info phone 413.529.0013 begin_of_the_skype_highlighting              413.529.0013      end_of_the_skype_highlighting begin_of_the_skype_highlighting              413.529.0013      end_of_the_skype_highlighting