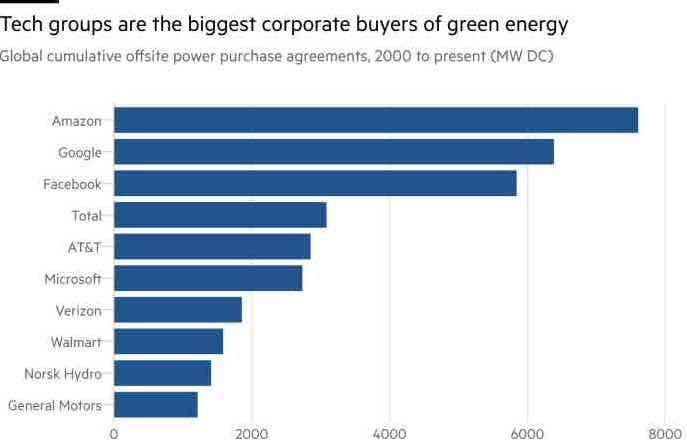 The combined power usage of Amazon, Google, Microsoft, Facebook and Apple is more than 45 terawatt-hours a year, about as much as New Zealand, new research revealed today. That amount will grow, as the rise of artificial intelligence and machine learning demands more computing power.
Meanwhile its increasingly possible for individuals to live entirely separated from the electricity grid.
Britain's first houses with appliances powered entirely by hydrogen will open within two months as ministers step up their campaign to prove that the fuel will become a greener replacement for natural gas.
The two show homes set to open in April in Gateshead, Tyne and Wear, will include boilers, hobs, cookers and fires that release no carbon emissions as part of the Government's drive to phase out the use of fossil fuels.
The semi-detached properties – which are expected to look like normal houses from the outside – are not intended to become family homes, instead serving as a showcase for hydrogen technology.
The Government believes hydrogen could play a major role in achieving its goal of net zero greenhouse gas emissions by 2050 while also helping create up to 100,000 jobs by that point – including 8,000 by 2030.
The project secured a £250,000 grant from the Government's Hy4Heat innovation programme and is being run by gas distribution firms Northern Gas Networks and Cadent.
The companies have both also input £250,000 of funding each for the houses, which are planned to be open to members of the public who will be able to view appliances and see how they compare to existing ones.
Hy4Heat has said the development of 'hydrogen-ready' appliances could have a big effect on the cost and impact on the public of a potential conversion of the gas grid from 100 per cent methane to 100 per cent hydrogen. Alternatively, Hydrogen could be converted from a water supply in the home.
Northern Gas Networks chief executive Mark Horsley said: 'We're delighted to be working with BEIS and Cadent on this unique demonstration, which gives energy customers a first glimpse at hydrogen technology in the home.
'Just like natural gas, hydrogen can heat homes in exactly the same way, meaning minimal change for customers in terms of how they use gas for heating or cooking.
'The houses bring to life the potential of this green gas for keeping UK homes warm, while minimising impact on the environment.'
The Government said students from schools, colleges and universities will visit to learn about the technology, as well as careers in the green economy and in science, technology, engineering and maths (Stem) subjects.
Cadent chief executive Steve Fraser added: 'We are proud to be part of this important project where we will be able to show customers what their future gas appliances will look like.
'A familiar sight to them, with one difference, they will be powered by hydrogen. These projects are so important to demonstrate a decarbonised energy solution in homes now.'
Ministers are expected to publish their 'hydrogen strategy' later this year to outline plans for what they describe as Britain's 'hydrogen economy'.