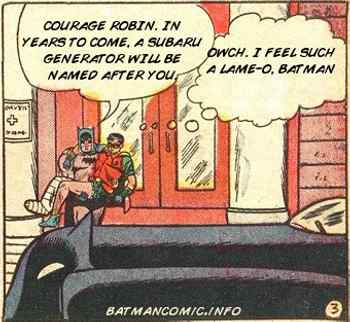 We rather like the Subaru Robin range of inverter generators. They are not too pricey and feature the latest in inverter generator technology. Models in the line, include the R1700i
which kicks out 1,650 watts; the RG3200iS

at 3,200 watts (click here for the RG3200iS California Compliant
), and the RG4300iS
— the first-ever 4,300-watt inverter generator.
Generator noise is one of the main problems – especially on quiet summer nights. Subaru's inverter technology reduces the sound level. Conventional generator designs run the engine at full speed regardless of the amount of power being used. Subaru inverter generators run the engine at a slower speed for low power use and automatically increase speed as more electrical power is required. Further sound reduction is achieved through the reverse cooling design. This allows the generators to be fully enclosed in a sound-absorbing poly-resin enclosure for near silent operation.
Producing clean sine wave power for sensitive electronic equipment, the R1700i
is powered by Subaru s EH09-2 OHV (overhead valve) gasoline engine, while the RG3200iS
and RG4300iS
models are powered by Subaru's EX OHC (overhead cam) gasoline engines. Voltage and frequency are electronically controlled to maintain accuracy through the full power range.
Compared to previous generator designs, inverter technology allows for a much lighter machine. The use of advanced electronics and compact multi-phase alternators increase efficiency, reduce size and lower weight. Additionally, the RG3200iS and RG4300iS models come with a four-wheel rolling kit for further convenience.
Generator operation is streamlined through the addition of a microcomputer. The microcomputer monitors and controls the voltage and frequency of the power output. Additionally, it monitors the temperature of the electronics and electrical conditions. The microcomputer automatically cuts off the power output to protect the generator from overloading and the user from electrical shorts.
For further simplified operation, the RG3200iS and RG4300iS feature a Multi-Monitor. The Multi-Monitor integrates an AC voltmeter, frequency meter, hour meter, idle control and an electric oil-level sensor. A simple touch of a button displays each function on the large LED readout.
All Subaru inverter generators come with a one-touch control system that allows all engine functions to be controlled with a turn of a dial. Additionally, when the dial is turned to the shutdown position, the control not only shuts-off the ignition, but also disengages the fuel supply, preventing fuel leakage during transport.
A lower spec, but cheaper, and still very good is the

Built for rugged conditions but light enough for two people to easily lift into a truck bed. Lightweight and compact design for easy transport 100% copper windings for maximum conductivity Alternator design eliminates maintenance by removing brushes and slip rings Heavy-duty 1-inch (25 mm) steel pipe frame and shock mounts protect the generator Runs for five hours on a full tank at full load Powered by a 5.7-hp Subaru-Robin engine with low-oil shutdown