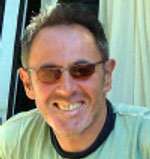 Nick: winter in California Nick Rosen has started work on his next book "Off-Grid America." He is currently in California meeting the eco-community. From San Diego he travels to Ukiah via the Bioneers conference San Rafael — then up to Ashland, Oregon.
As belts tighten across the continent Nick is also filming a documentary about how going off-grid can help you survive the credit crunch. Its all about freedom – and combining new technology with ancient wisdom," he says.
you can contact Nick to be included in the research, or make any suggestions. Call 1-877-706-7423 or write to nick@off-grid.net. The book will be published Sumer 2010 and the film will be released around the same time.