Yerranderie is an ancient silver mining town turned into a peaceful off-grid retreat, at the heart of the Blue Mountains National Park in Australia. You can rent a room in one of the wooden houses or set your tent, relax and explore the area.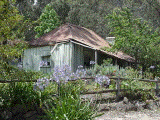 A lodge at Yerranderie
Yerranderie was abandoned 40 years ago when the only road to the small mining town was cut by a new reservoir. Val Huede, an architect, bought it and restored it over the last 30 years. She turned it into a unique and serene place, disconnected from everything. Yerranderie is about 1000 km away from Sydney and the only way to get there is by 4×4 or 9 days hiking. Once there, there's no shop or petrol station around, so visitors should come prepared – this place is really, really isolated.
Customers can rent a bed in one of the many lodges the old Post Office or the Tailor's Shop. The lodges are powered by solar power and heated with wood. It is also possible to camp, amidst the kangaroos, wallabies and lyrebirds (if you're lucky you might spot a koala!). Prices are about AUD $ 40 (16) per person per night in the lodges and AUD $ 12 (5) camping. Make sure you phone and book beforehand they have a solar powered radiophone!
Website: www.yerranderie.com