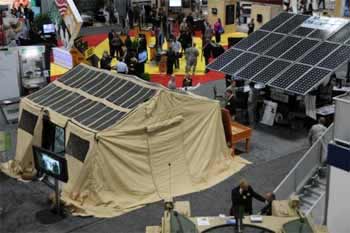 By the end of 2011 the U.S. Army will have ended its dependence on the grid  at several major homeland bases.  It is also sending technology to Afghanistan that's designed to minimize energy consumption of generators on bases there. The goal is to reduce the number of fuel deliveries that convoys need to be make across dangerous parts of the country. The first field-ready "microgrid" will link a base's generators to a central controller that will turn them on and off depending on if they're actually needed. A system has been tested in Ft. Irwin, Calif. The Army hopes to deploy it by the summer.
Its one of a number of off-grid and microgrid initiatives being tested by the military that will prove the potential of off-grid energy to serve medium-sized communities and may then make its way into civilian use.
The Army is preparing to supervise joint technology testing at three homeland bases next year that will allow the services to measure the effectiveness of microgrids and their potential to make energy infrastructures more efficient and cyber-secure.
The joint capability technology demonstration known as SPIDERS, or Smart Power Infrastructure Demonstration for Energy Reliability and Security, is being designed to install and secure experimental microgrids at Joint Base Pearl Harbor-Hickam, in Hawaii, Marine Corps Camp Smith, also in Hawaii, and Ft. Carson in Colorado.
Once Congress approves fiscal year 2011 funding, the SPIDERS microgrid JCTD will be allocated $40 million over three years, according to service officials. The Energy and Homeland Security departments have partnered with the Pentagon for the project.
The Defense Department has begun exploring microgrid technology for military bases at home because of their potential to make installations more energy efficient and secure should disaster or cyber intrusions strike the commercial grid
Harold Sanborn, the Army Corps of Engineers' technical manager for the JCTD, said the microgrid technology being installed at the bases will integrate energy from existing diesel-power generators and renewable sources to power daily operations. The systems, which will provide the energy infrastructure with the situational awareness needed to more efficiently regulate power distribution, will also be cyber-secured when connected to the commercial grid.
"Without the microgrid, you don't have the ability to be situationally aware and give a command and control signal to different appliances to turn on or turn off," Sanborn said during a Dec. 14 interview. "[But] if you start making the energy distribution system situationally aware, you also open a potential for vulnerability and need to make it secure. Once I start putting that information over any kind of Internet communications protocol, I need to make it secure."
Officials who proposed the JCTD cited information from various government sources warning that the energy infrastructure at military bases in the United States — which are currently connected to commercial grids — were at risk for outages and cyber penetration.
"Critical national security and homeland defense missions are at an unacceptably high risk of extended outage from failure of the electric grid," according to information compiled by the Defense Science Board that was cited in a SPIDERS JCTD presentation earlier this year.
A report from the Center for Naval Analyses was also cited to support the effort. "DOD should pioneer the adoption of smart-grid technologies on its installations," stated a CNA report referenced in the JCTD presentation. "These technologies would help the installations better manage their energy demand, increase efficiency, enable more effective use of renewable sources, and provide resilience against electrical disruptions."
The CNA report cited by JCTD officials also warned against the military energy infrastructure's vulnerability to cyber attack. "There have been numerous attacks on the operating systems of major critical infrastructure facilities, including power grids, around the world in recent years," according to the report. "Chinese and Russian spies have 'penetrated the U.S. electrical grid' and left behind dormant but malicious software."
Those are the kinds of intrusion SPIDERS will be designed to prevent, according to Sanborn, who said the service will set the technical parameters of what needs to be done and award a contract to a systems integrator that will design an open architecture to demonstrate the utility of the microgrid.
"We're going to start out small in terms of the amount of the electricity we manage at Pearl-Hickam, and at each location the scale of the electricity goes up as well as the energy storage and cyber security," he said. "You then continue to add complexity and size to the distribution system."
A SPIDERS request for information was released in August by the Philadelphia District of the Army Corps of Engineers in support of U.S. Pacific Command and U.S. Northern Command. The RFI was designed to determine the "availability of a contractor that can act as an integrator for technologies that will comprise a defensible smart microgrid that reduces vulnerability to energy supply disruptions, energy price volatility, and unusual load increases while reducing the heavy carbon footprint."
According to the RFI, "the integrator will need to use a combination of increased energy efficiency, intelligent power distribution and alternative/renewable/hybrid power in order to decrease the amount of energy consumed and enable the ability to operate in an islanded mode during emergency for an extended period of time."