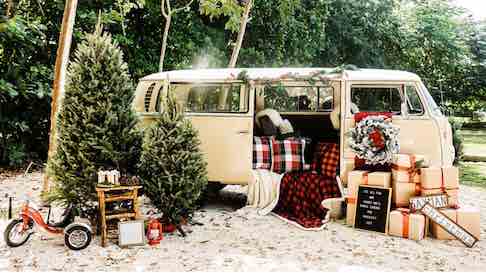 You don't need to become an off-grid survivalist to learn a few of our tricks. The products mentioned below – and many more can be found at our online store in the US and UK.
In the US, major cities are finding extreme weather can easily disrupt utility supply, randomly and with increasing regularity. Homeware stores report a 60% year on year increase in website searches like hot water bottle, candle and flashlight. These are baby steps, but you have to start somewhere.
Both American and British grid-tied households are apprehensive about what to expect. The ideas and products in this list will help you take back control of your power bill, and save money from reduced energy consumption.
1. Work and comms
Top of the list for the WFA generation is a reliable internet connection and long battery life. If you have a laptop make sure its low-energy – (the latest HP laptop, or Apple 13" Macbook, both claim over 13 hours of use on a single charge). Mobile phones with a good battery life include the Android Asus and this Apple i-phone
You can connect the laptop via your mobile phone's personal wifi hotspot. Alternatively, buy a data dongle that plugs into your laptop (and feeds off its battery) to connect computer to internet via the mobile phone network. Best for international is the Huwai  – A mifi dongle does the same thing, plus allows several devices to wirelessly use the connection. Both these options require a data plan from a mobile phone provider.
2. Uninterruptible power supply
For your home broadband connection, Most most modern gas boilers need a permanent electricity supply, so if your power goes down then so does your central heating you need an uninterruptible power supply (UPS), which has a battery. A mid-range model can keep a typical 12V router seamlessly connected for a day, and a hot water pump in the evening. An APC UPS by Schneider Electric  for around £380 promises to keep a router and smartphone charger running for almost a day The more devices you plug in the shorter the UPS will last.
3. Battery pack
Either get yourself a big battery or a small one that fits in your purse or pocket – dont bother with the ones in between
Small portable battery packs charge your mobile phone, (like this one from Anker – https://amzn.to/3ucfDsB )when you are on the go, but are less handy in a blackout. Just make sure the power pack itself stays charged.
Big batteries like Bluetti and Jackery can set you back over £1000. But a fill charge will power your home office, lights and a central heating pump for a couple of days.
Any electrician can join the power supply at a switch on the wall – you plug in a battery when the mains power goes down, and you still have your hot water and central heating. As long as the water supply and the gas supply aren't also affected.(see woodburner below)
The mid-sized batteries are good for keeping your phone alive – or everal hones in a family – but dont depende on them for much else. Products like the multiport powerbank Goal Zero 100 PD Powerbank (£199.99 ), have four sockets promising up to seven charges for a smartphone, three for a tablet and one and a half for a laptop.
Further up the scale for independent power is the combined battery and solar panel. Costing £1500-£3000, you get a 15kg workhorse to carry round with you in the back of the car, and power your entire home in an emergency. Plus a 400W solar panel that can charge the battery in 4 hours of weak sunlight. You could also charge the battery at work, or a friend's house. If you have two batteries – one charging and one in use at any time, then you have several days of energy in the can.
The EcoFlow range of portable power stations, such as the Delta  (over £1,000), is big enough to run a desktop computer through the dark hours. It can be charged using solar power, and claims to go from zero to 80 per cent charge in 50 minutes from a wall socket.
4. Woodburner Wood is "good energy" – meaning it doesn't add to the long term warming of the planet. There are all sorts of ways wood can be misused – like turning it into pellets and sending it up the motorway to Drax power station – or burning wet unseasoned wood that sends loads of pollution into the local atmosphere –  but you cannot argue with locally sourced, bone-dry firewood in a good woodburner. However a top woodburner is £2000, and it has to be installed by a professional — the cost of the labour and the flue is another £2000 because it must not cause any fires nor emit fumes that will damage you or the environment. The best stoves are deceptively simple – their 200 year old design ensures fuel burns at the hottest possible temperature, with almost no chemical residue in the fumes.
If you can pick up an old Charnwood or similar for a few hundred then it is worth the effort, but for those on a budget – we follow the 80-20 rule – if you cut your CO2 by 80% at least 80% of the time you are doing way more than everyone else. Then you can get a £300 woodburner, which burns at a lower temperature and is less good for the environment –
5. A Bicycle? How novel!
Get a bike  –energy saving device that hugely increases your personal efficiency at a very low cost.
£100 a year with repairs etc. Petrol stations would not be working during a blackout.
6. Solar power and lights
Prices have shot up recently, but If all you want to do is charge a couple of phones and power some LED lights, then a £495.00 set of parts should be all you need, if you dont mind putting it together yourself.. Solar panel, battery, wiring, lights,  for the Renogy panels and controller and batteries and wiring – lights extra
This head torch (In the UK) for example – may look a tad eccentric, but its more convenient during a blackout than candles or a handheld flashlight – you are walking around in your own pool of light!
Batteries last a month of daily use, which is fortunate since the UK National Grid warned lights could go out on "those deepest, darkest evenings in January and February" because of reduced gas imports from Europe.
7. Kitchen essentials
Water – If the power goes off then the water sometimes shuts down as well.
Blackwall Rainsaver diverter kit–  is just £10 to splice into your down pipe and then any kind of water butt will get you at least a 100 litres for when you need it most.
Low energy fridge – Sunfrost are the best – – otherwise our recommendation is to get a freezer and turn it off at night –
Camping stove – The Bright Spark BS100 is gas powered and a good back up to electric cookers Useful to warm up dinner if your hob is electric — and for camping, come brighter days — is a gas cartridge portable stove  (£19.18, nisbets.co.uk). Stock up on spare canisters too.
Non-electric slow cooker
You need to bring food to the boil before placing it in a Wonderbag
— so plan ahead — but this drawstring wraparound bag then retains the heat to slowly cook stews, casseroles, spag bol and other hearty favourites to perfection in about eight hours (£62.99, wonderbagworld.com).
Two ring hob – if you think about it most of your cooking takes place on two rings – its rare you use all 4 at the same time. The camping gaz is good for anything from a paella for 8, to coffee and a fry-up.
As the threat of blackouts increases, stocking up on these essentials will make light of any winter power cuts.
You can tour our off-grid show-home on the Youtube channel and learn lessons for your on-grid existence. From composting to woodburners to rainwater harvesting,
For more stories from off-grid.net search here
Our Our fastest solar ovenBake, roast or steam a meal for two people in minutes, reaching up to 550°F (290°C). GoSun Sport sets the bar for portable solar stoves.
Buy our book - OFF THE GRID - a tour of American off-grid places and people written by Nick Rosen, editor of the off-grid.net web site