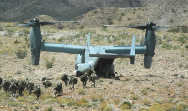 Big as Rhode Island Twentynine Palms facility, the largest US Marine Corps base, is to be transformed into a model smart microgrid system.
The vast  base in California houses the Marine Corps Combat Center, and already generates power on site to cover critical needs — with a solar plant as well as a fuel cell installation. The $2m project is being funded with Recovery Act money from the DOD's Environmental Security Technology Certification Program.U.S. military installations consumed 3.8 billion kilowatt-hours of electricity last year, enough electricity to power 350,000 households in the United States. In addition to their size and demand, military facilities also have unique challenges related to systems security, stability and the capacity to maintain high performance in high-level emergencies — even if separated from the regional grid.
"Make no mistake, the base can operate independently off the grid today," said a spokesman,  "but it's not going to do it in the most optimal way."
In remote or self-contained facilities and communities with the capacity to generate and store their own energy, advanced smart energy management technology can be seen in the creation of intelligent microgrids — which are basically smart, site-specific power grids that enable better system management.
Smart microgrids help sites more efficiently balance generation, storage, load and demand. As largely self-contained systems, microgrids can also more readily contend with the variables that arise with renewables, enabling better integration of those power sources in electrical distribution networks. Microgrids also help sites interface more efficiently with regional grids.
In metro areas, a number of projects are under way to bring smart grid technology — such as intelligent power meters and automated controls for demand response and other functions — into homes and businesses
GE's Microgrid Controller.
At Twentynine Palms, the centerpiece of the new system will be a GE microgrid controller with advanced algorithms and computational decision engines that will be installed at the base's grid control center, where it is expected to integrate seamlessly. By performing its management functions, the new system will reduce energy consumption and the facility's carbon footprint while enabling the base to "extend its operations capability if it is divorced from the California grid for any reason," said a GE source.
"The way to think about microgrid technology is that it's another tool in the tool box when you look at the smart grid — it is designed to address specific challenges, but it is also an important piece of the overall smart grid strategy," John Kern, the manager of GE's Smart Grid Research Lab, told GreenBiz.com and GreenerBuildings.com.
The move advances GE in the smart grid arena as an increasing number of public-private partnerships and projects emerge to develop intelligent, integrated systems to efficiently manage energy from its generation at multiple sources to the many points of its delivery.
The Corps' premier site for training exercises occupies 932 square miles in the southern Mojave Desert. Like most U.S. military bases, Twentynine Palms is connected to a larger electrical grid network, the California grid.