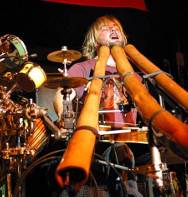 Where to next Xavier? The "world's sexiest vegetarian" is selling his A$2m off-grid home near Melbourne.  Singer, songwriter Xavier Rudd is selling his Jan Juc joint, at the end of a long, winding driveway, over a wooden bridge and nestled in among the gum and tea trees, only a short walk from one of the world's best surf beaches.
The Bells Blvd property has off-grid solar power, rendered straw-bale walls and solar hydronic water and space heating.
Best known for albums such as the Aria-nominated Food in the Belly and 2007's White Moth, the self-professed fulltime "barefooter" was last year named the world's sexiest vegetarian by animal-rights group PETA
It has four bedrooms, two bathrooms, reclaimed timbers and bushfire-resistant cladding.There are tanks for water, and a worm farm for sewage and organic waste.
Xavier his wife Marci and their two boys camped on the property before building, which gave them an intimate understanding of the site and some ideas about what they wanted, which included plenty of space for the kids
Xavier grew up a few blocks away and Marci grew up in a rural part of Vancouver Island in Canada.
Xavier can play guitar, didgeridoo, stomp box, harmonica and percussion. He also has a passion for beautiful wood, which inspired the innovative use of recycled timber throughout the house – from the sugar-gum staircase and benchtops to the remarkable red-ironbark-and-turpentine pylons (from an old Geelong pier) used as structural posts.
The internal walls are straw bale rendered with earth, providing excellent thermal mass.