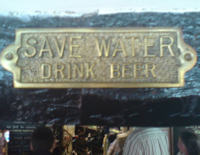 The rainbeers are coming! An Atlanta Brewery which was making beer from rainwater has been told to stop gathering  the water by city officials.  Probably encouraged by Miller lite and other big brewers, the EPA and officials at the local and State level have been persecuting the tiny indie brewery.
Rainbarrel manufacturer RainHarvest Systems probably never imagined their barrels being put to use by the brew pub. But Atlanta's 5 Seasons Westside Brewery did just that, capturing rainwater, filtering it, and using it to brew up some of the greenest beer flowing.
The operation was quickly shut down by health officials.
A fast friend to the eco-community in Atlanta, the relatively new 5 Seasons offers natural, "real" food and beer brewed by brewmaster Crawford Moran. The brewery was already making green efforts in their production methods by reusing cooking oil from the kitchen to fire their kettles. 5 Seasons took it to the next level by using only the rainwater in their beer production, an act that fulfilled their "commitment to environmentally responsibleproduction" and actually improved the taste of their beer. Moran says the rain beer tasted smoother and better than that made with municipal water, in part because rain water is incredibly soft. According to Holland, "the 1/8rain]water is purified through 6 stages of filtration, followed by a dual-beam ultraviolet sterilization that results in water of superior quality to tap water."
The 5 Seasons filtered rainwater passed University of Georgia Soil and Water Laboratory certification, but operations were still stymied by officials at the local, state, and federal level. Moran notes that the filtered rainwater was certainly "potable" before being put into beer production, but there are no statutes discussing rainwater for such use, so his idea was kicked despite having produced hundreds of gallons of beer.
"The EPA wants to weigh in on (the situation)…It's a touchstone case for the future of commercially-used water, because you know this thing is going to become more and more popular. It's all about education at this point: Showing them how it works, and how it's maintained, and how it's good for the state." As 5 Seasons Brewing waits for the red tape to fall, the world waits for the outcome of his ingenuity.