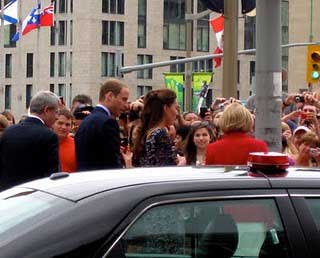 Not content with spending a night in a shack trying to create the next Royal Baby, Wills and Kate are set for a weekend of Moosehide tanning during a tour of Dechinta – a hippy haven in the NorthWest Territories.
The Royal couple are to visit the so-called "Bush University" and sample off-grid life as part of their hugely successful Canadian tour.
RoyalPrince William and Kate's trip to Yellowknife this week will include a tour of Dechinta,  the"bush university," giving them a chance to try their hand at "fish drying" as well as moosehide tanning.
Dechinta combines academia and aboriginal knowledge in a northern wilderness setting.
Students at Dechinta took part in a course on 'writing from the land' during the program's pilot offering in June 2010.
The royal couple will travel by float plane to the Blachford Lake facility on Tuesday afternoon, following a packed day of activities in the Northwest Territories capital.
Following their 20-minute flight to Blachford Lake Lodge, where most of Dechinta's programs are offered, William and Kate will be given an opportunity to try moosehide tanning and fish drying, as well as meet with Weledeh Dene elders, according to centre officials.
"We'll start with a language lesson," Kyla Kakfwi Scott, Dechinta's program director, told media.
"They'll be sitting down with one of our Weledeh language experts and learning how to introduce themselves and say 'Thank you' — sort of preparing them for the interaction with elders that will take place."
Established last year, Dechinta offers university-accredited programs in which students live "off the grid" at Blachford Lake to learn about northern aboriginal culture, governance, and perspectives on climate change, education and other issues.
The intensive 12-week programs place equal value on Western-style academia and traditional aboriginal knowledge.
While at Dechinta, William and Kate will join a facilitated discussion on what Kakfwi Scott described as a "fireside lecture hall."
"The chance to just have an open dialogue and open conversation, I would imagine that's hard to come by."
Yellowknife resident Moses Hernandez, who studied aboriginal self-governance at Dechinta last summer, will be among those who will take part in the conversation with the royal couple.
"We touched on issues that were really controversial — deep, thought-provoking stuff like decolonization," Hernandez said.
"This time, I feel like I'll be comfortable enough to explain how the experience [of Dechinta] affected me and to share that with the royal couple."
Kakfwi Scott said Dechinta invited William and Kate to the facility because of their young age, as well as their focus on youth philanthropy.