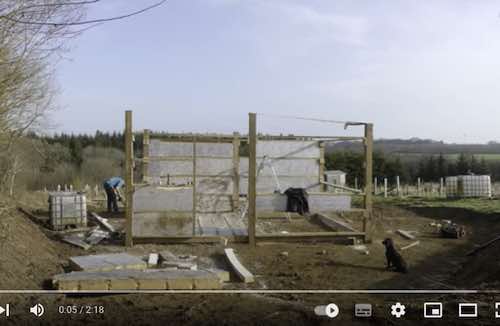 The off-grid showhome started as a lockdown project – a spur of the moment bid for some land in an online auction in 2020.
Now it is a full -fledged reality and our next open weekend is August 27th 2023 – we welcome local residents who want to see what is happening , and also anyone who  is considering a similar project and needs advice on how to build.  Contact news@off-grid.net for more info – You can also watch the youtube film which shows the building process. Go to https://www.youtube.com/watch?v=95qqnOWnfk4.
In years to come, the wood will benefit the environment in many ways, and also benefit the local community.  After all – they helped to plant it after we put out a call on Facebook seeking volunteers. They will use the shed to make tea and shelter from adverse conditions.
Three local scythers turned up in a 1950s LandRover. They looked like the Detectorists from the BBC series starring Toby Jones, except that instead of metal detectors they had long handled Austrian scythes which they honed frequently, as they slowly scythed their way through bracken and overgrown grass without disturbing the earth beneath, saving all sorts of tiny wildlife from abrupt eviction.
Each tree required a stake to be pounded in the ground, then a spade-slit for the tiny sapling itself.  The tree-guard slides over the tree and is fastened to the stake and presto – add ten years and you have a mature English woodland.
It was laborious process and by the end of the first day we had only scythed half the field and planted 150 trees.  Out of 500
We headed back up the track expecting to return a week later.  But then came another lockdown. The second day of planting never happened a year later.
Now the woodland is beginning to take shape, the shed is built and our neighbours have erected their shelters as well.
Please come and visit – and help plants some more trees.
Auto Amazon Links: No products found.