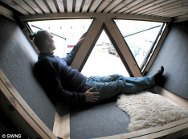 The world's first walking home set off on vacation early this morning. The box-like dwelling which uses six hydraulic legs powered by solar panels left the Wysing Arts Centre in Cambridge UK where it has lived for the last 18 months, bound for an arts festival in Essen, Germany.
Meanwhile in the virtual world, a British design company in cahoots with industrial giant Samsung unveiled a film of a "revolutionary transport system'" it calls 'Aircruise' –a solar-powered air-born luxury hotel. Yes, a floating hotel in the sky. (https://www.youtube.com/watch?v=bP15Vgt55Gk).
Eco prop: ecological propaganda
At first glance the two seem to have little in common – other than being a bit 'futuristic'. But the link is that they are both are examples of what might be termed 'eco prop' -ecological propaganda, (after 'agit prop' the Russian communist term for political art). Both are designed not as practical templates for others to copy or even as prototypes for mass marketed products, but purely as artistic and intellectual 'provocations'. Their aim is to encourage people to re-examine the fundamentals of conventional grid-bound living.
The walking home designed by Copenhagen-based art collective N55 was first shown in 2008. It's solar and wind powered and comes equipped with a living room, kitchen, toilet, bed and wood stove. It runs fully off-grid and it is claimed it can stroll at walking pace across all terrains. The legs are controlled by a mainframe computer programmed by a friendly boffin at MIT.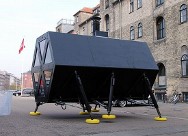 The undeniable disappointment is that it isn't walking to its destination –it has thumbed a lift from a large lorry. "Even with expert help, it still walks like a baby. It would be just too dangerous for it to walk far," explained Lotte Juul Petersen, curator at Wysing.
But she denied that this invalidates the idea. "I don't think it was ever really supposed to be a prototype or a practical idea. It is way of challenging assumptions about how we live and operate as human beings."
Like a caravan but not a caravan
The house has been described by critics as "nothing more than a complicated, inefficient caravan". It's a fair point because the resemblance to a caravan is not coincidental.
The Wysing Arts Centre is situated in an area with the largest gypsy population in the UK.  The original brief to N55 was to look at nomadic groups in densely populated Britain. "It is an attempt at creating alternative thinking about architecture, at asking how can we live in a modest sustainable way without occupying conventional houses and consuming lots of power? It offers a vision of alternative lifestyles and deliberately touches on many different political agendas," says  Petersen.
Flying floating luxury hotel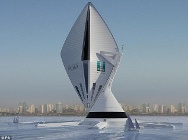 The Aircruiser is an even more radical idea.  It's a design for a luxury hotel located in a hydrogen balloon carrying just a few passengers in deep luxury. There are huge spaces for living, dining and relaxing, a bar/lounge zone, four duplex apartments, a penthouse and five smaller apartments.
The balloon is 265 metres tall. Hydrogen, is used as the lifting gas, and large PEM hydrogen fuel cells provide on board power and some drinking water. They are supplemented by flexible photovoltaic cells covering the upper part of the envelope.
It cruises at between one hundred and one hundred and fifty miles an hour , making the journey from London to New York in 37 hours and Los Angeles to Shanghai in 90 hours.
According to the company: "PEM fuel cells generate the primary power for on board systems and turn low speed compressors located in the mid section of the ship. This compressed gas is ducted to provide directional thrust and auto stabilisation. Compressed hydrogen stored in parts of the main structure also provides fuel for longer ranges."
Slow holidays
Although it just looks like a bit of geeky science fantasy, the design by UK company Seymourpowell is in fact an ideological attack on conventional notions of travel and recreation. According to Nick Talbot, design director at Seymourpowell, "the Aircruise concept questions whether the future of luxury travel should be based around space-constrained, resource hungry, and all too often stressful, airline travel. A more serene transport experience will appeal to people looking for a more reflective journey, where the experience of travel itself is more important than getting from A to B quickly."
It is the abundance of time and space rather than material objects that defines the experience of luxury. "In a world where speed is an almost universal obsession, the idea of making a leisurely journey in comfort is a welcome contrast," explains Talbot. "The physics of the airship requires a gigantic volume of lifting gas, yet simultaneously demands a relatively limited amount of weight. This allows for a potentially large amount of space with relatively few people onboard – a luxury for any traveller."
Lifted by hydrogen and powered by solar energy, the Aircruise has obvious environmental benefits claims Seung Min Kim, design director at Samsung C&T. "This was a dream concept project for us, helping to realise a future of sustainable buildings combined with innovative and luxury lifestyle. In an age when environmental impact is a key consideration for architecture, we are keen to extend this vision of the future by searching for solutions that can be realised by 2015 –the year that many futurologists foresee as the turning point for the future."
Questioining current lifestyles
Yeah yeah, whatever. It would be easy to criticise the two projects as failing to grasp the real implications of global warming. Both gratuitous luxury and unnecessary travel, will probably be as unacceptable as blowing cigarette smoke in a baby's face in years to come. But there's no doubt that art works like these are fascinating, stimlating and engaging.
While they are unlikely to save the planet on their own, they will contribute to the questioning of our current lifestyles.