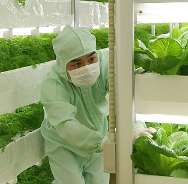 The world's first portable, containerised vegetable garden is set to be delivered in April. The scientifically developed  "vegetable factory", from Mitsubishi Chemical Holdings Corp. is an insulated 40-ft shipping container, equipped with water-circulation system and LED lighting.
Reacting to a scandal caused by the importation of pesticide-tainted dumplings from China, Japan is seeing a number of designs emerge for small vegetable factories in which crops are grown artificially. Many are cultivated hydroponically in tiers of shelves under energy-saving LED  lighting.
Some are so small that they can be installed in a floor space equivalent to a "tatami" mat (2 metres square).
"Our goal is to provide vegetable factories enabling cultivation in all conditions, whether in a desert, frigid clime or the middle of the city," said Tokitaro Hoshijima, project director, Project PV at Mitsubishi Chemical Corp of Japan.  These vegetable factories face a major problem, though, in the high cost of electricity for lighting, air conditioning and other uses, which accounts for about 30% of total running cost. Mitsubishi Chemical hopes to cut electricity cost for vegetable plants to zero.
According to a source at Mitsubishi Chemical, switching from florescent lights to LEDs will cut power consumption far enough to make it possible to use solar cells to supply the load. Engineers use red and blue LEDs, which cover the absorption peaks of chlorophyll, to achieve more efficient illumination than that available from red-deficient florescent tubes. The intermittent illumination that LEDs excel at is ample for photosynthesis, and the end result is a major reduction in power consumption. Engineers believe that illumination on a 200us cycle is sufficient for cultivation.
Using solar cells also means a higher initial cost, though.  Prices are very high for the first few off the production line but are expected to drop fast as the innovations are copied by manufacturers around the world.
It's perfectly feasible to supply any containers with solar panel and lithium-ion battery to make them utilise abundant solar energy. Mitsubishi Chemical suggests that the plant can harvest about 50 leaf vegetables such as lettuce per day. For such leafy vegetables as lettuce, 2000 plants can be grown in a single shipping container.
Measuring 12.2 meter (length) x 2.4 (width) x 2.9 meter (Height), the vegetable plants with solar panel and lithium-ion battery costs approximately $659,051- $768,893. These are also available without the solar additions, priced at $550,918.
The container, which the company calls as "vegetable factory", is a heat-insulating one featuring air-conditioning facilities to keep the inside temperature constant. It is also equipped with water treatment facilities for water circulation, filteration and recycling. The fluorescent and LED lighting equipment will help photosynthesis.
"When used in regions where electricity prices are low, fluroscent lighting equipment will be mainly used. But, when the plant is powered mainly by solar power, LED lighting equipment will be used because it consumes less power than fluroscent light equipment ", the company spokesperson revealed in Tokyo while formally announcing the company's decision to deliver the first container to Qatar.
The vegetable factory will be powered by a hybrid grid that also draws commercial power, based on a system that incorporates SANYO's `HIT solar panels' (2kW) and `lithium-ion batteries' (3.14 kWh is planned). The electricity stored in the lithium-ion batteries will mainly be used for direct-current LED lights to grow vegetables in the vegetable factory. Once the system is complete, the solar panels will generate electricity, which is then stored in the rechargeable batteries, eventually enabling vegetable cultivation in regions not served by an electrical grid.
A small vegetable factory called Miraibatake is found in LaLaport Kashiwanoha, a large shopping center in Kashiwa, Chiba Prefecture. Though the factory is normally inaccessible to shoppers, it was opened to them for the first time in mid-December by Mirai Co., which developed the facility, and Mitsui Fudosan Co., which operates the shopping center.
A housewife who had pulled lettuce from a cultivating shelf said, "I'm assured of the vegetables I have confirmed myself. I would like to buy this every day."
Mirai, a Chiba Prefecture start-up firm specializing in vegetable factories, has provided such facilities to food-service businesses, including Ootoya Co., a restaurant chain operator. Miraibatake is as small as a little more than 3x2x2 meters and is far from the image of a "factory." It was developed jointly with Showa Denko KK and LED business Shibasaki Inc.
The facility depends largely on LED lighting, and Mirai "studied the proportion in which red light, which promotes photosynthesis, should be mixed with blue light, which advances cell division," said Shigeharu Shimamura, president of the company.
LaLaport is near Chiba University's Kashiwanoha Campus, where a vegetable factory development project has been launched jointly by the university and companies, including Mirai. Mitsui Fudosan, which is developing commercial, housing and other facilities in the area around the campus, provided the vegetable factory space free of charge.
Miraibatake is a test model whose price has yet to be set, but Shimamura said, "We want to sell it to operators of urban shopping malls and owners of vacant stores in shopping districts." Mirai plans to install the factory in other commercial facilities to make it known to more consumers, while also improving the production efficiency by increasing the number of shelves from four tiers to five tiers.
Elsewhere in Japan, Taisei Corp. and Stanley Electric Co.have also jointly developed a space-saving vegetable factory, which occupies the floor space of a tatami mat. Taisei installed the factory in a space near the reception counter of its head office in Shinjuku, Tokyo, in late December. The construction company targets manufacturers with idle plant facilities, and is negotiating with about 20 firms, aiming to win 10 orders within a year.
The factory uses Stanley Electric's LED lighting panel, which uses a special lens to create light that mimics sunlight. It has a shorter distance between the light source and vegetables than the conventional type using fluorescent lighting, allowing for six tiers of shelves. Its production efficiency is 50% higher than that for fluorescent light-based models, Taisei claimed. The price is estimated at 4-5 million yen.
Taisei started contracting to construct vegetable factories last spring. It received an order for building a vegetable factory with a total floor space of over 8,000 sq. meters. However, companies considering starting an agricultural business want to acquire mass production technology at test facilities before making large investments.
To meet such demand, Taisei developed the new model without the function of automatically supplying liquid fertilizers that can easily be test-introduced. "The design is simple and does not require piping work," said Hiroo Yamanaka, who heads a new business promotion group at Taisei's engineering division. "It can be installed if an electric outlet is available."
Espec Mic Corp., a subsidiary of environmental testing equipment maker Espec Corp, sells the Plant Cellar vegetable factory, which combines fluorescent and LED lighting, and can be used for organic cultivation using a soil medium as well as hydroponics based on liquid fertilizers.
Fairy Angel Inc., a subsidiary of LED maker CCS Inc, received capital from Mitsubishi Chemical Corp. and is tapping markets for vegetable factories in Middle Eastern countries. It will be makinmg the first delivery in April – to the oil-rich but veggie-poor nation of Qatar.
Vegetable factories can be broadly classified into a type completely dependent on artificial lighting and a type that uses sunlight, and the former has become the mainstream because of its potential for stable supply of produce. Green vegetables like lettuce are mainly cultivated, but strawberries and tomatoes can also be grown.