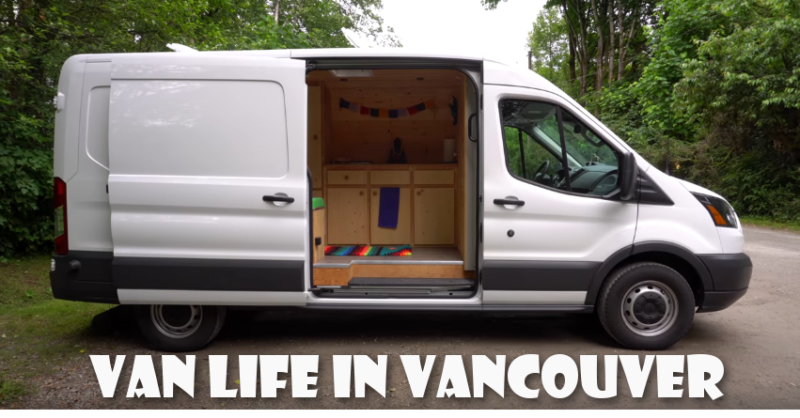 Wow, that is my first thought about Atli and how she lives! She is a part-time bus driver, she can afford to work part time because she doesn't have rent or other major housing expenses. Before Atli started her mobile life, she noticed a few other fellow bus drivers living under a bridge next to where they all worked, they lived in vans and were actually teased about being the "trolls under the bridge", but instead of joining in on the good natured teasing, Atli decided she wanted to be one of those trolls.
Atli purchased and with the help of her dad, converted a commercial looking van into her home. I love that her dad helped her in this, that so reminded me of my dad, even the pictures of Atli's dad made me think of my dad, it is so very sweet.
The van is very non-descript, she can park it anywhere and not draw attention, something that helps keep her safe, no one is going to pay attention to what looks like any ordinary commercial van, she purposely kept that appearance by not installing windows on the sides and by building in a bulkhead with a small door just behind the front seats. That also helps with privacy.
With the lack of windows, Atli felt that she needed to have some natural outdoor lighting so she installed a skylight right above her bed in the back, this not only gives extra natural light, she can look at the stars from the comfort of her bed. Atli also installed 2 roof vents, one has a fan, the other does not, this helps with ventilation, especially in the warmer more humid times of the year.
The van is fully insulated, not only to help keep the temps more enjoyable, it also keeps down condensation from the inside metal surfaces. Atli used a lot of wood in her van, personally I would have not used the tongue and groove wood as it does add a lot of weight, I would have preferred a lighter (weight) paneling, maybe something that had a light colored finish, but that is merely my opinion, everyone has their ideas.
I LOVE LOVE LOVE how much room she has inside this van, it's not cluttered or crowded at all, she can fully stand up and walk around, there is plenty of storage and she can cook real meals on her 2 burner cook top. There is running water and a sink, cleverly made from a stainless steel bowl purchased from a dollar store. There is a pull out table with lots of room for eating or working, it fully retracts under her bed, a design feature that I find very handy.
The only "lack" in this setup is a bathroom facility, no toilet and no shower, things that Atli doesn't require because she is able to use the facilities available to her at work and at the gym.
Atli does escape for a few months in the winter and tries to make it to the Rubber Tramp Rendezvous in Quartzsite Arizona each year. She is also putting together a monthly van dwellers meetup where she lives most of the year, it's the first Sunday of each month in the summer months in the Spanish Banks parking lot, see the end of the video for more details.