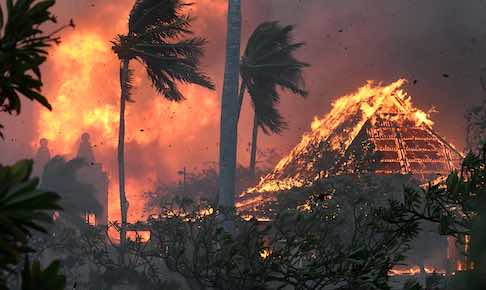 Multiple outlets are reporting that Hawaii's main utility faces scrutiny for not cutting power to reduce fire risks on Maui in the hours before the tragic blaze that swept Lahaina.
Hawaiian Electric did not have a plan — such as those in California — to power down its electric lines in advance of high winds. Doug McLeod, a former energy commissioner for Maui County, said the utility was aware of the need for a regular shut-down system and to bury lines, especially given the "number of close calls in the past."
"Hawaiian Electric, the utility that oversees Maui Electric and provides service to 95 percent of the state's residents, did not deploy what's known as a public power shutoff plan," reported the Washington Post over the weekend.
Intentionally cutting off electricity to areas where big wind events could spark fires is a widely-used safety strategy ever since what were then the nation's most destructive and deadliest fires, in 2017 and 2018.
The state's electric utility responded with some preemptive steps but did not use what is widely regarded as the most aggressive but effective safety measure: shutting down the power.
Hawaiian Electric was aware that a power shut-off was an effective strategy, documents show, but had not adopted it as part of its fire mitigation plans, according to the company and two former power and energy officials interviewed by The Washington Post. Nor, in the face of predicted dangerous winds, did it act on its own, utility officials said, fearing uncertain consequences.
The decision to avoid shutting off power is reflective of the utility's struggles to bolster its aging and vulnerable infrastructure against wildfires, said Jennifer Potter, who lives in Lahaina and was a member of the Hawaii Public Utilities Commission until just nine months ago.
"They were not as proactive as they should have been," Potter said about Hawaiian Electric's fire-prevention planning, adding that there had not been any real meaningful action to "address some of those inadequacies in terms of wildfire."
Auto Amazon Links: No products found.