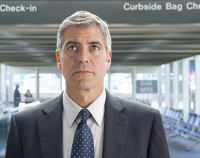 George Clooney's starring role in "Up in the Air" is a movie about a special class of off-gridder – the business traveller – living in a peculiarly amoral world, of airports, corporate hotel rates and frequent flier cards. George Clooney plays a smooth-suited consultant whose job is firing people at a time when downsizing is the fastest growing industry in the US.  "We take people at their most fragile and we set them adrift," says Clooney's character.
Directed by Jason Reitman, the hero of Up in the Air inhabits an entirely new state: Airworld, where the hometown paper is USA Today, the laptop-plus-executive-lounge is the office, a mobile phone is the only permanent friend, the indigenous cuisine wilts under heat lamps, and the citizenry speaks a Byzantine dialect of upgrades, expense accounts, and market share.
Airworld even has its own nontaxable, inflation-free currency in the shape of bonus miles, which Clooney's character Ryan Bingham calls "private property in its purest form." Officially, Bingham is a management consultant, specializing in the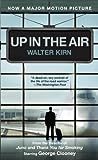 dubious field of career transition counseling. But what Kirn's airborne protagonist is really doing is pursuing his own private passion, his great white whale: accumulating one million miles in his frequent-flyer account. As Up in the Air opens, Bingham has set out on a final, epic traveling jag. He intends to visit eight cities in six days, thereby achieving his own vision of Nirvana somewhere over Sioux Falls, South Dakota.
Vera Farmiga plays Clooney's nemesis, a stunning MILF who drags a spark of compassion out of Clooney, a man who cannot afford an iota of feeling for his fellow man, or woman, to enter his carapace.
the film received the most Golden Globe nominations of any this year, with a total of six nominees including Best Motion Picture-Drama, Best Director for Jason Reitman, Best Screenplay for Jason Reitman and Sheldon Turner, Best Performance by an Actor in a Motion Picture-Drama for George Clooney, and two Best Performances by Actresses in a Supporting Role for both Vera Farmiga and Anna Kendrick.
Auto Amazon Links: No products found.