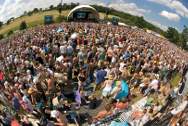 Family-friendly festival This August sees the first Off-Grid Sunrise Festival  somewhere in Somerset (location to be revealed).  The three night event will be entirely powered by renewable energy. This new camp is a deep exploration of community living, creativity and consciousness, with hands-on activities, talks, workshops, performance, music, art and celebration.
Its a spin-off from the annual Sunrise Celebration which is held in Somerset May 28th-30th this year. Off-Grid Editor Nick Rosen will be speaking at 3pm on May 29th, and again in the evening, in the Big Yurt.
The Off-Grid event in August will be participatory and family focused, exploring the emergent culture of environmental awareness and the ways in which everyone can create a sustainable future together.  "We welcome this new addition to the annual Off-Grid Calendar" said Nick Rosen. Times are changing and knowledge is growing of the human impact on the natural world and upon each other. Off-grid will explore humanities potential to improve the lives of everyone on this planet.
"Creating a festival is like building and servicing a small town," said Dan Hurring from Sunrise. "In the process we can explore solutions that can be applied in our everyday lives and throughout the world. For this event we will be moving away from using bio diesel generators, and working on micro generation of power from solar, wind, cycle and possibly hydro power."
The Off-Grid festival is about creating a space for empowerment, where festival goers will have the opportunity to gain knowledge and experience on the steps that need to be taken to increase energy efficiency. There will be lots of practical information, from how to make a boiler use less fuel to installing a wind generator. Whether the dream is an inner city vegetable patch or living on the land, Off-Grid will be a showcase of what is possible and available to everyone, no matter what their lifestyles.
As a family focused event Off-Grid will have loads of activities for children, with a kids' village and fun workshops especially tailored for them on how they can help their families help the environment.
So bring the family to eat from nature, sit in ceremony, design the future, walk on hot coals and move beyond your perceived limits.
Off-Grid will be powered by clean, renewable energy, with site wide organic food and drink, compostable packaging, plates and cutlery, and numerous other initiatives making this the Greenest event of the year. Sunrise Off-Grid is run by a Community Interest Company, CIC's invest their profits back into the community, building a world beyond monetary profit.
Tickets: Adults £75 in advance/Kids £25 Info: 0845 0094463 – off-grid@sunrisecelebration.com