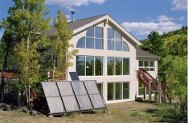 UK gov says power to the people The UK government has made off-grid thinking an integral part of the country's energy policy with new grants available to any household or office that generates its own power.
The UK Low Carbon Transition Plan, unveiled yesterday by Energy Secretary Ed Miliband, charts exactly how the country will meet its legal commitment to cut carbon emissions by a third within eleven years.
Subsidies for all micro generators

The strategy paper set out plans for a fivefold increase in renewable power generation to provide 30 per cent of Britain's power by 2020. It calls for two per cent of the UK's energy needs to be met by power generated off-grid in homes and businesses. It promises subsidies of up to 41p per kilowatt hour for households that sell surplus power back to the grid.
Under the scheme households and offices will be receive base payments for producing energy and will receive further payments for energy they export to the national grid. "This will be in addition to the cost savings they make by generating their own power," explained a government spokesman.
"These payments are not capped," she added. "If every single household and office in the country adopts microgeneration, then they will all receive that money."
Speaking in the UK House of Commons yesterday Mr Milliband announced that in addition, seven million homes would be given pay-as-you-save energy makeovers, with grants which would paid back through savings in energy bills.
Tackling climate change will require "comprehensive changes" in British society, he told MPs. Renewables will playing a greater role, but the emphasis remains on using the grid, with wind power the focus.
According to the Department for Energy and Climate Change, wind power will generate 26 gigawatts of energy by 2020, enough to power more than 15 million homes. That would mean a total of 10,000 new turbines – 6,000 onshore and 4,000 at sea. There are currently about 2,500 onshore wind turbines in Britain.
The Government says it plans to "all-but eliminate carbon from electricity by 2050."  Around half the planned annual emissions cuts between now and 2020 will be achieved by further greening of the electricity mix. "We expect 40% of the electricity we use in 2020 to come from low carbon sources – 30% from renewables, the rest from nuclear (including new build) and clean coal," said a spokesman.
Around 15% of the planned emissions cuts will be achieved by making homes more efficient and supporting small scale renewable energy. A further 10% of emissions cuts will be achieved through greater energy efficiency in the workplace and around 20% will be achieved by cleaning up the way we travel. 5% will come by reducing emissions from agriculture, land use and waste.
The government signalled its commitment to its transition plan by making strategic changes to the energy sector. Ministers plan to take over the allocation of electricity grid connections in order to favour renewable schemes, force the industry regulator, Ofgen, to tackle carbon pollution and pass laws to compel power companies to help poorer families meet rising energy bills.

subsidies variable
Under the new plans, homes will receive variable subsidies for their power generation depending on the volume of energy generated and technology used. So a home generating between one and five megawatts using hydro power would be paid 4.5 pence per kilowatt hour. An existing building generating up to four kilowatts will receive a subsidy of 36.5 pence per kilowatt hour. All power exported to the grid will receive a payment of 5p per kilo watt hour.