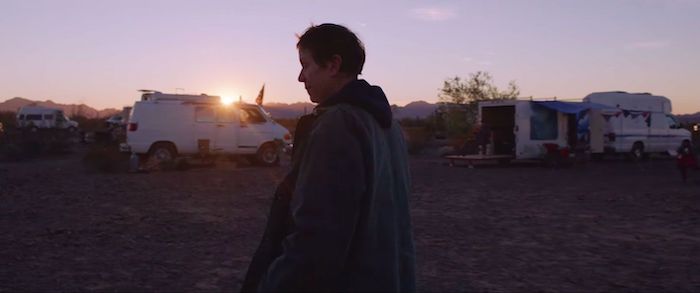 Oscar winning Frances McDormand is the most fascinating and enigmatic actor on the A-list right now.  Having her pick of the most heavily funded movies, its revealing she chose Nomadland (see the brilliant trailer here)  – which she produced as well as starring in – a relatively low budget feature about the Snowbirds – mainly older Americans -who travel the country in RVs and other vehicles, looking for work and sun.
The film opens February 2021, and has already received once-in-a-decade reviews at film festivals.  "Chloe Zhao's ''Nomadland" is that rare creation that not only lives up to the hype but also makes you forget about it, " said one reviewer.  "This is a gentle, humane and dizzyingly poetic ode to the people on the fringes of American society, the ones who choose to wander and drift across the great Western landscape," says another. "Frances McDormand gives a performance that is so alive and unguarded that it feels like non-fiction."
It's relevant that 63-year-old McDormand is one of the few in Hollywood who manages to preserve a normal life outside the film world, appearing in public only rarely – usually  to promote a film – but only if she believes in it.  Nomadland is a passion project for McDormand, and for Director Chloe Zhao.  "As I get older, the most important thing for me became the environment where my cellular structure feeds. And in that sense, it has nothing to do with bricks and concrete. I love the land."
McDormand spoke about her similarities to the person she plays in the movie, Fern – a 60-something woman searching for work and identity and opening up to the possibilities of life on the road.
"It's interesting, because the biggest difference between me and Fern is that I left my house, left behind my working class life when I was 17, and never came back. But in the film, Fern makes a very important decision to align herself with a man who fell in love with her,But she doesn't create her own destiny until she was 61. I mean, she starts at 61, which I had started at 17. That's why I don't think her life is so much like mine."
"Well, I've been practicing the idea of pretending to be someone else for 38 years now. I think there's always a part of every character which has some resemblance the actor's life. And in this case, it's much closer. But I don't know if I can say she's just like me."
As a child McDormand lived a nomadic lifestyle – travelling with her parents.  Is this relevant to the nomadic lifestyle portrayed in the movie?
She was adopted with her sister, by the McDormand family, and together lived in Georgia, Kentucky, Tennesee and Pennsylvania.  Frances won a place at the prestigious Yale Drama School. It was there that she shared a room with actress Holly Hunter (Oscar for 'The Piano').
Many of the snowbirds in Nomadland are real characters who really live in the vans they inhabit in the movie.  And that has a strong, powerful effect on audiences.  "We actually had an intimate projection for friends and family that was very interesting," said McDormand. "A friend of mine started interviewing me with a tape recorder, after watching the movie. He said Fern was like a guide, the kind of person who takes you through a museum or some archaeological excavation or something, who shows you all the facts you need to know about that world. And it was wonderful to hear that Fern guides the viewer, as if taking them by the hand, pushing them into a new perspective of life, to allow everyone to think and draw their own conclusions" [about the nomadic lifestyle].
" It wasn't a traditional two- or three-month shoot at all. For starters it took us five months in five states, with some free time in between, to wait for the seasons to change, as well as crafting the idea of landscapes. And when I talk to you about landscapes, I'm talking about another style of passages, because of a comment someone had said when we premiered Three Billboards, saying that "a close-up of Frances McDormand is like visiting a national park." I loved the definition because a face gives you the broad perspective of a story and looks a lot like a natural landscape."
"As is. I wasn't planning on appearing in the movie at all. We were going to find another actress, until it became clear to us that the story was going to be different from the original book."
"… I can only say that for this film, for example, I bought my own Salvation Army costume and took care of my own makeup. I even cut my hair on my own. Isn't that another category for the Oscar? It's true, I don't think it qualifies as Best Hair and Makeup. But I also took care of all my costumes, although cinema is always a collage of collaborations."
Nomadland already won the Golden Lion at the Venice International Film Festival, was acclaimed at the Toronto Film Festival and is being heavily tipped in the next Oscars.  It would be a third Oscar for McDormand after Fargo and Three Billboards, but she is also in line for another statuette as one of the producers if it wins best picture award.  Director Chloé Zhao could also make history as the most nominated woman in a single ceremony if she garners Oscar attention for producing, directing, writing and editing.
Zhao and McDormand Youtube interview can be found here
PS: Even Vogue USA is blown away by this moview – here is exerpt form Jan 2021 interview
I am not allowed to tell you where this took place. She made this clear at the outset. I can tell you that it was an unincorporated township known for its natural beauty. Approached from the east, ridges of towering redwoods give way to a tidal estuary favored by great blue herons and snowy egrets. Beyond the lagoon lies the secret place—a small peninsula on which a loose patchwork of idyllic farms, rustic homes, and piney-smelling eucalyptus groves stretches into the Pacific. This Shangri-la is less secret in the era of geo-tagging, but locals do what they can to maintain its seclusion (e.g., remove road signs to divert visitors). Fittingly, the secret place is separated from the North American continent by an active fault. It is literally on a different tectonic plate.
I met her in the parking lot of one particular beach, where two miles of rocky shoreline are shielded by a tall bluff of eroding cliffs. She pulled up at noon sharp in a sensible hatchback. Walking across the parking lot, she stopped in her tracks, pulled down her pandemic mask, and with her free hand pointed comically to her face, as if to confirm what was already unmistakable: She was Frances McDormand.
McDormand was dressed in a long denim skirt, a denim button-up, and a denim coat, all of which were the same shade of indigo. Her shoes were handmade with sand-colored leather by a Spanish outfit called Satorisan, so named for a mythical monster of ancient Japan, a supernatural creature capable of reading people's hearts. I know this because the editor on her photo shoot was so taken with the shoes, she tracked them down and ordered them in multiple colors. (I feel confident asserting that McDormand is the first cover subject to inspire a Vogue editor to scour the Sundance catalog.) Though each of McDormand's clothing items appeared to have been made in the 21st century, her monochrome silhouette amounted to something more timeless. From a distance she looked like she'd stepped out of a 19th-century tintype—Annie Oakley at 63, had Oakley cropped her hair and traded in her Marlin rifle for an REI backpack.
At close range McDormand is quite beautiful. Her skin is rosy and glows with good health, enhanced (I imagine) by the fresh drinking water she procures from a spring near her house. In repose her expression tends to be deadpan, except for her eyes, which are deep blue and have a mischievous glimmer. But when she tells a story or does an impression—say, of her husband, Joel Coen, admiring a rather wide-leg jumpsuit by Ilana Kohn she likes to wear: "SpongeBob SquarePants!"—her features become elastic. McDormand has long made it a policy not to manipulate her appearance. She does not use Botox to flatten her wrinkles or filler to inflate her cheeks. When she smiles (and she does often), there are no patches of muscle paralysis. When she furrows her brow, it actually furrows. These days McDormand avoids wearing makeup, even on the red carpet. When she accepted her Oscar for Three Billboards Outside Ebbing, Missouri two years ago, she did so bare-faced.
We made our way down a dirt path toward the beach. The sky was cloudless, the fall sun bright. McDormand is wary of the press and rarely grants interviews. I was reminded of this 57 seconds into our walk, when she relayed the following: The day of the shoot for this story, she got a splinter in her hand. Then, this morning, the day of our interview, she got another splinter in her hand. She was concerned that the two splinters were symbolic: "Is this a sign? Is this going to be a thorn in my fucking side?"
The reason she was doing any interviews at all was her new movie, Nomadland, which by now you have probably seen. It's a stunning poem of a film, directed by Chloé Zhao, about a tribe of itinerant workers who live in RVs, trailers, and vans. These nomads are older than those usually associated with the #VanLife hashtag, and they are certainly less affluent. Their movement was spawned not by Instagram but by the irresolvable clash of rising rents and flat wages. With no mortgages to pay, they are free to move around the country with the weather and the work, from the sugar-beet harvest in North Dakota to the holiday packing season at Arizona's warehouses in California. As Jessica Bruder, the journalist who wrote the nonfiction book on which the film is based, put it: "They are driving away from the impossible choices that face what used to be the middle class."
Most of the nomads in the movie are real-life nomads playing some version of themselves. McDormand plays Fern, a fictional character written into the landscape by Zhao, who has forged a hybridized style of filmmaking that combines documentary and fiction—most notably with The Rider, her 2017 portrait of a Lakota rodeo cowboy set on the Pine Ridge Reservation in South Dakota. She absorbs the stories of real people and spins partial fictions from their factual worlds.
Zhao did some of this with McDormand, too. Fern is a widow who hits the road after the collapse of her company town in rural Nevada—she is not a world-renowned character actor who lives in the secret place—but there is something of Fran, as McDormand is known to her family and friends, in Fern's essence, in her rapscallion presence onscreen. At one point Fern drives to the coast and revels in the ocean air, in shots filmed not far from the secret place.
I'd watched Nomadland right before this interview, so Fern was fresh in my mind. This lent an uncanny dimension to the afternoon I spent with McDormand. As we walked along the beach, picnicked on a driftwood log, and sat in the shade of a eucalyptus canopy, I wasn't always sure if I was talking to Fran or Fern.
Some character actors get typecast. Others are chameleons. McDormand falls into the chameleon category, though she is never physically unrecognizable. When she disappears into a character, she does so through the force of her acting. And yet the women she embodies are so distinctive, so idiosyncratic, and sometimes so strange, I tend to remember them as though they were real people. Her performances are indelible the way a Diane Arbus photograph is indelible—a snapshot of an individual, utterly unique and alive.
The first McDormand character to leave a permanent impression on my brain was Dot, the excitable, slightly deranged friend who comes to "sneak a peek-loo" at Holly Hunter's stolen baby in Raising Arizona. The movie was on repeat in my house in the '80s, and though I was a kid, I was drawn into its surreal, color-saturated world. When I watched it last spring, I noticed that Dot was reflecting a type now familiar to me—the all-knowing authority on whom motherhood has bestowed a lifetime license to dispense unsolicited advice. I marveled at how, in McDormand's hands, a type becomes particular. In Dot's case, an ear-bending hysteric with a poufy mullet and wild eyes who frantically squeezes yellow mustard onto white bread while admonishing new parents: "You gotta get 'em dip-tet boosters yearly or else they'll develop lockjaw and night vision!"
For a certain age cohort, McDormand's most indelible character will forever be Marge Gunderson, the pregnant cop investigating a homicide case in Fargo, for which she won her first Oscar. For reasons that are hard to pin down, Marge is burned on the consciousness of all who were alive and sentient and old enough to buy a ticket to an R movie in 1996. When I mentioned this to McDormand, she nodded and said, "To my grave I'll be Marge." But even she couldn't pinpoint why.
Most of it was in the writing, McDormand said. Joel Coen, her partner of 38 years, and his brother, Ethan, wrote Marge specifically for her. "The cadence and the rhythm of the dialect was in the script," McDormand said. "All those ya's were on the page." There was also an element of surprise to Marge. We were not taught to expect the pregnant cop would be the most competent one. Marge solves the crime between prodigious meals and bouts of morning sickness, apprehending the murderer as he feeds his accomplice's body into a wood chipper.
But the writing can't account for all of it, can it? It doesn't fully explain why, more than two decades later, strangers still shout, "You betcha!" to McDormand on the street. There was something alchemical going on—in Marge's waddle, in her heavy parka and veneer of Minnesota Nice, in the inimitable way she surmised that one grisly crime scene was "an execution-type deal." Here McDormand recalled the prosthetic belly she wore, how it was filled with birdseed. "It had a real weight to it," she said. "It completely informed the way I moved."
She got closer to an answer when describing Olive, I think. In Olive Kitteridge, the 2014 television miniseries based on Elizabeth Strout's Pulitzer-winning novel, McDormand played the dowdy, depressed math teacher at the center of the story, doling out barbs in a Down East accent. McDormand explained that she found her Olive in part by constructing her material world—by picking out her dishes and silverware and watches. The process was "outside in, inside out," she said. "I find that I develop the interior life of a character by the things that are around her."
Like Marge, Olive marked a turning point for McDormand. Until then she had played supporting or ensemble roles onscreen. "Females who exist to make sure that you understand that the protagonist is male," as she has put it. But Olive carried the series. And the series swept the Emmys. Then another lead role arrived in the form of Mildred, the enraged mother she played in Three Billboards. Mildred won McDormand her second Oscar.
Everything about this lane change is rare, of course. It's unusual for any longtime peripheral actor to become a bankable lead. But a female actor? In her 60s? There may be a German word for this magnitude of gravity-defying feat, but I don't know of one in English. If you think about it long enough, you start to question whether character actor is still an accurate description of McDormand. The term starts to say as much about the conventions of Hollywood storytelling as it does her place within them. If character actors play the characters, are lead roles empty vessels? What do you call a character actor who becomes a lead?
McDormand says she is bringing marginal characters to the center. This description is not inaccurate, but I can't help feeling it sells McDormand a bit short. The statement is true only when you are using movies as your frame of reference. Such characters are not marginal in the real world, after all. In the real world, female depression and rage are not uncommon, human faces age, and women continue to lead lives after 60—lives that often have little to do with men. If your reference point is the real world, McDormand isn't bringing the margins to the center so much as she's bringing more of the world to the screen.
Several of McDormand's early film roles were in Coen-brothers movies. From afar this created a vague impression that she sprang fully formed from their stylized universe. In reality she was born Cynthia Ann Smith in 1957 in Gibson City, Illinois, to a single mother. At one and a half she was adopted by Vernon and Noreen McDormand—"great names, right?!"—and they changed her name to Frances.
The McDormands were "solid, working-class, educated people," both originally from Canada. Vernon was a minister for the Disciples of Christ who had a knack for rehabilitating struggling congregations. Noreen was a minister's wife ("full-time job") and part-time receptionist. The family moved around the Midwest and the South. Vernon and Noreen had trouble with fertility, so they took in strays. McDormand recalls nine foster children in all. She was the third and last to be adopted.
There was a performative aspect to life in the McDormand family. Vernon had a quiet, friendly preaching style—"He wasn't a Holy Roller Bible-thumper," McDormand said—but he still got up in front of people every Sunday. A certain expectation thus extended to the children: "Perhaps the idea that the kids of a preacher had to toe the line. Or at least seem like they were toeing the line. Or give off the right public relations. You understand that you have a role to play in the family unit."
When McDormand was 14, an English teacher at her high school in Monessen, Pennsylvania, a steel town near Pittsburgh, had students perform Shakespeare scenes after class. McDormand played Lady Macbeth. Soon she was the only theater major at Bethany College in West Virginia, attending on scholarship because it was affiliated with the Disciples of Christ. She got to play Desirée in the Sondheim musical A Little Night Music. She got to do a lot of things: "We would do O'Neill and Ibsen. We weren't just doing razzmatazz, jazz-hands stuff."
A few of her professors pitched in so that she could travel to audition for Yale Drama School. She enrolled in 1979, the year Lloyd Richards took over as dean. Richards, a luminary who, with the original production of A Raisin in the Sun, became the first Black director to stage a Broadway play, emphasized dramaturgy. "It was about the words, about the scripts, about the plays, about the literature," McDormand said.
After graduation McDormand went straight to New York. She got an apartment in the Bronx and a job in Midtown, at Richoux of London, where she worked as a cashier and sold (and stole) Godiva chocolates: "I wore a white doily and a long brown polyester skirt." Her roommate, Holly Hunter, recommended her for a role in Blood Simple, the Coen brothers' first film, a noirish and absurdist tale of misguided violence set in Texas. (Hunter had gotten the part but was already committed to a Broadway play.) McDormand played Abby, a young adulteress whose husband hires a hit man to kill her. Her soft curls, dimpled chin, dainty nightie, and vacant expression belie an inner grit. Abby pins her assassin's hand to a windowsill with a steak knife.
While filming in Austin, McDormand asked Coen for book recommendations. He gave her a box of Raymond Chandler and Dashiell Hammett novels. She asked which one she should start with; he said The Postman Always Rings Twice. "Which is one of the hottest books ever," she said. "He seduced me with the choice of books. I seduced him by inviting him over to discuss them." Back in New York, they moved in together. "I realized I could have a relationship that was really deep and passionate but that didn't keep us from also being able to have a functioning working relationship. I went, Oh, it's possible to not become so obsessed that you can't live your life."
Raising Arizona was the Coens' second movie, and they wrote Dot specially for McDormand. This may have created an expectation that she would be in all their films. When the role of Verna in their third movie, Miller's Crossing, went to Marcia Gay Harden, McDormand was vexed. Why isn't this me? she thought. McDormand had worked with other directors by then. She'd already played Mrs. Pell, the Klansman's wife in Mississippi Burning, and earned her first Oscar nomination. But good roles were hard to come by. She felt Verna should have been hers. "That was part of my learning process and part of our learning process privately as a couple," McDormand said. "We both had to work through that. You're not going to get a role every time."
McDormand had been trained to play the leading ladies of theater—the Heddas, the Stellas, the Olgas. She'd been on a Cherry Jones trajectory. But there was no obvious path in film. She was constantly told she didn't look right. "I wasn't pretty, I wasn't cute, I wasn't beautiful, I didn't have the body." Coen helped her depersonalize the rejection: In the medium of film, physical type can trump talent. Over time she hit on a certain niche—the friend of the pretty girl, the girlfriend of substance to the much older man. "It wasn't just that I decided," she said. "It was clear. That's the only thing I was going to get jobs doing."
McDormand worked with great directors—she was Betty in Robert Altman's Short Cuts. But even the good roles could be thin. (Notice how Mrs. Pell has no first name.) Others were drawn in laughably crude terms. After she wore prosthetic breasts in Raising Arizona, for instance, "I started getting scripts that literally said big-breasted woman." So she brought the boobs to auditions, carting them around in a box. "They became props, like a false nose or a wig. You could play the boobs." At one audition it was suggested that the production might be able to work a boob job into the budget. "As in actual surgery?" I asked, unsure that I'd heard her right. "Actual surgery!" she shouted. The words sounded absurd echoing through the eucalyptus.
McDormand learned to stop asking if she had a part in whatever new movie the Coens were writing. (Eventually she would have her agent ask instead.) When she got the script for Fargo, she wasn't sure about Marge. "It wasn't obvious to me what her power was," she said. Once she was in the full getup, though, with the boobs and the birdseed belly, Marge started to come to life. (I thought of this later, when I asked Holly Hunter what made McDormand unique as an actor. "It's a weird, ineffable thing," Hunter said. "It's in her body.")
Oh, and this might be relevant: When they were filming Fargo, McDormand and Coen knew they would be adopting a baby, their now-grown son, Pedro. They'd been having trouble with fertility. You may recall that in the final scene, Marge's husband, Norm, rubs her belly and says, "Two more months." Well, when they shot it, they knew Pedro would be arriving from Paraguay in two months. Wait—did Coen make Marge pregnant for this reason? "There was a certain deliberate quality to it," McDormand said. "We were expecting."
They raised Pedro in New York. Coen shot movies during the summer. McDormand took one film role a year and did a lot of theater. Though they'd rejected organized religion, McDormand wanted to give Pedro some form of mythology. He was going to need stories. "Part of the adoption pathology," she explained. So she decided they would celebrate pagan holidays. "I couldn't commit to Christianity. But nature: I could always commit to that, and the power of it." Coen went along, with humor. One day he returned from a Greenwich Village bookstore with a pile of books on paganism, including one called Pagan Parenting.
When Pedro showed an interest in sports, McDormand and Coen found themselves in new territory. "I don't know how to play sports," McDormand said. "His dad's not really sportive. Pedro's athletic, but we kind of handicapped him because neither of us wanted to take him to games and stuff on the weekends." Pedro did inherit McDormand's love of fashion, though. She would take him to Century 21 on his birthday. "It's kind of like a sport for us," she said. "Shopping is what he and I do together."
By the time Pedro was in high school, McDormand was starting to think about producing. She knew she'd need to fill her time with something when Pedro left home. She worried she'd be bereft and wanted to steel herself against despair.
McDormand was also itching to play the protagonist. She'd made a million movies by then and worked with a million female directors (okay, more like eight), but the parts offered to her were still, well, peripheral. When she'd asked Coen why he didn't write better parts for women, he'd responded that he didn't know how. She optioned Olive Kitteridge one week before it won the Pulitzer.
McDormand is passionate about housewifery ("It's a profession!"), and she found that her own experience in that field translated fluidly into producing. Plus, she liked having a say in the material things. She knew right away when she'd scouted the right house for Olive, for instance. The window over the sink was perfect. (McDormand doesn't know about you, but she needs to look outside when she's washing dishes.) She had input on important nonmaterial things too, like the soundscape. If you pay attention, you'll hear lots of scrubbing; abrasive Olive likes to scrub things. Though McDormand wasn't a producer on Three Billboards, she did inform writer-director Martin McDonagh that the completely "radicalized" Mildred would be wearing nothing but jumpsuits.
McDormand has been making deft statements about age on the awards circuit—the not wearing makeup, the not dyeing her hair. She wore Birkenstocks to the Oscars because why the hell not? McDormand says it's political. But I wonder if that, too, sells her a bit short. Her success is much more than symbolic, after all. If she'd done lots of things to her face—if she were no longer utterly recognizable—what characters could she play?
Makes you wonder about the stuff McDormand was told. Her example seems to disprove it. Her example seems to say: Not only is it not true, the opposite might be true.
At some point in her 40s, McDormand told Coen the following: "When I'm 65, I'm changing my name to Fern, I'm smoking Lucky Strikes, drinking Wild Turkey, I'm getting an RV, and hitting the road." This became the bass line. Zhao filled in the rest with information she gathered over a period of many months. McDormand relayed stories about her life, showed Zhao slides and photographs. "She incorporated a lot of my truth into Fern's truth," McDormand said.
I'd wondered. There were hints. For instance this: At one point in Nomadland, Fern is checking into a campground affiliated with an Amazon warehouse where she will be working the holiday season. When the receptionist has trouble locating her name on an alphabetical list, Fern tells her: "Try m-c-d."
There are quite a few personal details, it turns out. In her van, Fern has a set of old plates with an autumn-leaf pattern—the same plates Vernon gave to McDormand when she graduated from college. And at one point Fern runs into a girl she used to tutor and asks the girl if she remembers any of the poems Fern taught her. The girl recites lines from Macbeth's tomorrow speech: "Out, out brief candle…." This could be a reference to the time she did Macbeth scenes in high school. It could also be a reference to this: McDormand will be playing Lady Macbeth in Coen's forthcoming film, The Tragedy of Macbeth.
Toward the end of Nomadland, a character played by the very handsome David Strathairn gives Fern a rock with holes in it. The rock is from the beach where I met McDormand. There's an organism that eats into the rocks and creates perfectly round holes, like Swiss cheese. There are probably more personal details—I can't be certain, but I have suspicions about a Christmas carol. "We spent a lot of time together just trying to figure out where is that line, between Fran and Fern," Zhao told me. "We wrote a version of Fern's backstory that is a version of Fran."
Zhao was just as meticulous with the van-dweller landscape. When the journalist who reported the book, Jessica Bruder, saw the film, it gave her "all sorts of crazy déjà vu," she told me. "It gave me flashbacks because it felt real. It captured a tone and a mood that felt very familiar to me. It was incredibly moving and also a relief to be like, They got it. It feels true."
Bob Wells, a YouTube personality and voice of the van-dwelling movement who plays himself in the film, had a similar viewing experience. "It felt so much like my real life that I couldn't even relate to it as a film," he told me. And yet when Wells shot his scenes with McDormand, there was an eerie degree of make-believe in play. "I can't even find words to describe watching her," he said. "She and I time-traveled to Empire, Nevada, where she lived with her husband, Beau. I can't remember names, but I will always remember that Fern's husband's name is Beau."
In Nomadland, as in The Rider, Zhao gives us a different kind of Western. She is less interested in the myth of individualism than in the reality of interdependence. This is what drew McDormand to Zhao; it's why she asked Zhao to direct the movie after she optioned Bruder's book. The Rider evoked the possibilities of wide-open spaces and reinvention and self-determination, the same glorious sense of freedom—"all the American tropes, all the cowboy stuff"—but put it all in a tribal setting.
Nomadland puts it all in a female story, McDormand explained: "With Fern, it's kind of like Shane, or John Wayne's character in The Searchers. These men that don't seem to have a past, only a present, and no future. They just arrive fully formed and they disappear. Except with Fern, because she's female, she's got a lot of stuff with her. She's got a whole van full of memories. Women don't necessarily come out of nowhere."
McDormand never knows how a character is going to land until she's in a theater with an audience. Sometimes a character resonates in a way that goes beyond her expectations. "There's rolling laughter and rolling catharsis," she explained, moving her torso and arms in an undulating wave motion. It first happened with Marge. The audience reaction made the hairs on the front of her scalp stand up. It's happened with Olive, with Mildred, and, at a couple of recent screenings, with Fern.
McDormand had wanted audiences to have this catharsis together. She worried the pandemic might preclude it. "The Greeks knew," she said. "The point was to get together." McDormand noted that some ancient theaters even had a section for people who were sick and dying. "The acoustics were designed so that these people who were lying there ill could be healed through drama and this collective experience." On the other hand, the pandemic has also made the specific promise of catharsis in Nomadland more needed. "We've all had to in some way face mortality," she said.
A few times during our walk, conversation turned to the meaning of this interview. McDormand brought it up repeatedly. What did it mean for a 63-year-old woman to be on the cover of a fashion magazine? She wanted me to pose the same question to Jerry Lorenzo, the designer behind the menswear line Fear of God, whose brown suit and hoodie she is wearing on Vogue's cover. It was Pedro McDormand Coen—she often says the whole name—who suggested she wear Fear of God. Pedro is 26 now and works in public relations, but he still loves fashion. What would Lorenzo think of McDormand wearing his clothes for this story? she wanted to know. (Lorenzo: "I'm speechless. I can't think of anyone more gangster than her.")
Before we walked back to the parking lot, the topic came up one last time. Why her? I told her that people just really loved her movie. McDormand got quiet. Then she said: "To still be culturally relevant as a 63-year-old female is so deeply, deeply gratifying. It's something that I could have never expected, given what I was told. And I believe I had something to do with it. I've crafted some part of this moment in time. And I'm really fucking proud."