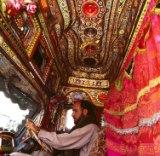 Over at diesel-generators.org, opinion is divided over whether to use a giant old diesel truck as a generator. Assuming you get the truck for next to nothing, the question is whether the inefficiences of a non-purpose-built generator outweigh the benefits of a (huge) 7.3 litre Ford diesel engine acting as a generator.
Its a nice idea, since generators can easily cost up to $1500, and still be relatively noisy and energy-intensive. But on the whole the experts are against using a vehicle as a generator.
"The engine in the truck is designed and built to move the truck," says one reply. "There are far cheaper to run and more effective options for direct charging any battery bank." ie a purpose built generator.
While not denying that there are disadvantages, the reaction of other experts is: "For emergency and the occasional deep cell charge up, yeah why not?  One negative: its overkill – 7.3 litres is enough to power "A LARGE HOTEL" rather than just act as a generator, says another poster, wrongly.
'Course, if you have a Chevrolet Silverado or a GMC Sierra with optional gas/electric hybrid engines, they are designed to  double as a generator.
General Motors says the hybrid engine improves fuel economy by 10 percent. Plus, four 120-volt power outlets will allow drivers to plug in compressors, power tools, refrigerators, home heating systems and televisions – no matter where they are.
As long as it came for free, I like the idea of using an American truck as an occasional generator, to supplement solar power. It saves money on buying another Chinese-made gadget, extends the life-cycle of the truck,and, hell, you could even store stuff in back.
However, if you are buying at market price,then an auto is probably not the answer — a fixed speed stationary engine has much different cam and fuelling profiles, and a very accurate engine speed governor fitted to ensure the correct frequency and phasing at all times when the batteries are being charged