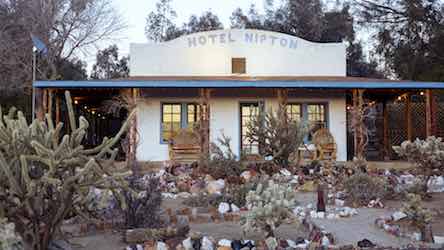 Does your life ever get you to the point where you want to just drop out and leave the system behind? Here are four options for starters. There are many more – you can hook up with others using our free classified ads service or posting on our searchable map – landbuddy.com
NIPTON
In the Mojave desert town of Nipton, the spirit of the western frontier has transformed a forgotten outpost into a self-sustaining ecotopia where the dream lives on.
A former long-haul trucker with a bowie knife strapped to his hip, Jim Eslinger serves as caretaker and hotelier of Hotel Nipton, its existence marked by a wagon-mounted sandwichboard that reads:
WELCOME TO NIPTON, CA B&B HOTEL & ECO-CABIN STORE, RV PARK & CAMPING RESTAURANT
Eslinger added a cluster of tented eco-cabins, outfitted with platform beds and wood-burning stoves.
A faded settlement of about 20 permanent residents, the town consisted of an assortment of structures, some solid and occupied, some as vacant and splintered as an Old West movie set. Computer Gamers might know Nipton for its cameo in Xbox 360's Fallout: New Vegas, where it played a post-apocalyptic wasteland infested by giant mantises. But otherwise it was your typical drive-through desert community, fixed at the crossroads of Nowhere Special and Wherever You Were Going when Eslinger arrived. There was one notable exception: Nipton, and everything in it, was for sale.
There a cluster of tented eco-cabins, outfitted with platform beds and wood-burning stoves. Popular with today's 30-something crowd, the cabins were based on a design by Frank Lloyd Wright. There is a solar plant, which produces 40 percent of the town's power. It sits on the outskirts behind a barbed wire fence, its rows of reflecting harvesters mirroring the sun as it moves across the sky.
There is a hydrogen system in order to store clean energy.
The town of Nipton is for sale.
KALANI HONUA
A solar-powered village tucked away on 120 acres of lush Hawaiian rain forest sounds a lot like Lost: Season 3, but it's actually an eco-minded retreat center in one of the best areas in the state to drop out. Here in the heart of the Big Island's Puna District, residents and volunteers are busy harvesting papaya and avocado, cooking farm-to-table meals, and taking classes in hula and tauhala weaving. Book a night in one of their cottages, pop in for a gong bath, or grab some honey produced from the on-site apiary. From $95; kalani.com.
SYNCHRONICITY
There's no rule that says you must drop out in a rural location with hippies running nude through the woods. Case in point: Synchronicity, a creative community set in L.A.'s bustling Koreatown. Though a small group of artists calls it home, the door is always open to guests, who can stop by for weeknight dinners and a monthly art salon. There's even a private room on hand for passersby to crash, free of charge up to a week, though payment in the form of a cooked meal, live performance, or carpentry is accepted. synchronicityla.com.
ARCOSANTI
Set on 860 acres overlooking central Arizona's Agua Fría River valley, Arcosanti tweaks modern means to live greener. The late founder Paolo Soleri encouraged his town to live leaner-efficiently making use of labor, space, and design to create a place that's elegant and resourceful. Drawing some 50,000 tourists each year, the sleek mini city amid the prickly pear and cottonwood trees offers guided tours, workshops, live music performances, and a gallery of intricate wind bells that are built by residents and serve as a perfect souvenir. Not so much a home for dropouts as a place to drop in. arcosanti.org.