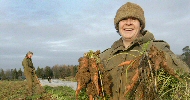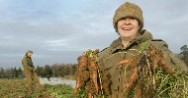 Will Chester-Master – green dream An Organic Farm Shop in Gloucestershire has won Environmental retailer of the year award. And their next plan is to take the farm off-grid.
Abbey Home Farm on Burford Road just outside Cirencester, offers fresh homemade meals and food from the farm.
The farm shop and cafe has its own bore hole, solar panels and wood-chip boiler which provide heating and hot water for the whole building. They are also planning to apply for permission to install a large wind turbine on site to provide all the power the farm needs.
Judges said the Shop was "going that extra mile to assure a positive future for our planet" and set the goalposts high for other farm retailers.
The business is funded by Triodos, the Dutch ethical bank. and run by Hilary and Will Chester-Master . It emphasises conservation and environmental awareness, from farming techniques to the shop design. It combines an organic farm shop, a woodland walk, and summertime camping facilities, as well as the mixed organic farm itself. Visitors enjoy a café serving fresh food direct from the farm, a green kitchen used to teach organic and seasonal food, and the Green Room which is hired-out for events highlighting organic, fair trade and wider ethical issues.
Hilary said: "To me, farm retail is about a way of life, using the land in our custody to grow and raise food that we can offer the local community, encouraging and helping people to eat primarily local food that is good for them and tastes delicious, whilst minimising waste and helping to conserve the environment. It is wonderful to have our vision and hard work recognised."
Hilary and Will regularly host educational visits, talks, and Soil Association masterclasses and have organised the Ragged Hedge Fair for the last three years, attracting 4,000 people this summer.
The Farm Shop is open Sundays selling a home-cooked lunch made from the farm's own produce.
CIRENCESTER'S green champions have scooped the Environmental Retailer of the Year award from the National Farmers' Retail & Markets' Association (FARMA).