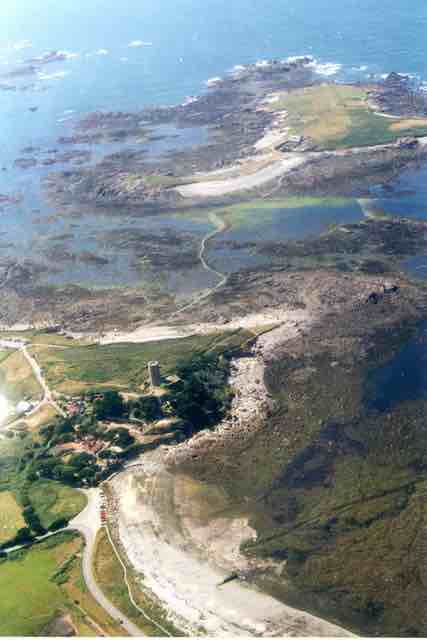 If you always wanted to be a hermit but never dared to make the move, now is your chance.
The remote island of Lihou, part of the self-governing British Crown dependency of Guernsey, is looking for a new Warden.
Guernsey is one of the Channel Islands in the English Channel very near the French coast, and after Brexit the new Warden could expect the island to be invaded one day by a desperate French President looking for a way to appease the Giletes Jaune.
It's known for beach resorts like Cobo Bay and the scenery of its coastal cliffs. Castle Cornet, a 13th-century harbor fortification in the capital of St. Peter Port, now contains history and military museums.
The tiny isle sits 500 metres off the Guernsey coast, in the English Channel between Britain and only a few kilometres from FFrance. The new warden will oversee its 36-acres from the rent-free farmhouse.
Applicants must be happy to live off-grid, drive a tractor and co-habit with the island's protected wildlife, including 150 different species of birds. you apply by writing to: info@lihouisland.com.
In return, you can while away the days taking a dip in the natural swimming pool, exploring the derelict priory (and remains of the island's 12th century monastery) and taking in the views from the shingle beach.
Guided tours and school trips often pass through, but this isn't a place for someone who craves company – access is via a causeway at low tide. Stormy weather can cut off the little island for days at a time.
Interested? Current warden Richard Curtis, who is leaving the island after 13 years, said his replacement needs to have 'fresh ideas', be looking for a new challenge and hail from Guernsey.
'We need to find the right person. Someone who wants to work with children, who can proactively work by themselves and who likes driving a tractor as their company car,' he told Guernsey Press.
Richard is leaving his role in September 2019 but it is hoped a new warden will be appointed by Easter next year so they can get support for their first season. Email info@lihouisland.com if interested.