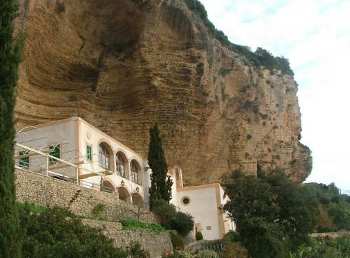 Thanks to Travelgood for this story
In California go north to this sulfur-rich spring famed for its healing properties. The Wilbur Hot Springs hotel is off the grid and totally solar-powered – there are no TVs, no mobile reception and, apart from on 'chef weekends', guests have to prepare their own food in the communal kitchen. Add to that the fact that clothing is optional around the baths and you can rest assured you'll be getting away from it all. There are free yoga sessions, a sauna and outstanding stargazing while coyotes howl.
Spirituality needn't mean slumming it. At the Complete Retreat, a luxury health and detox centre in Andalucía, you'll be munching plenty of raw foods, necking sprout juice shots and doing two yoga classes a day but there's comfort in the form of a chlorine-free infinity pool, massages and ensuite rooms with balconies. It's resultsfocused and you're encouraged to incorporate what you've learnt into your everyday life back home. As founder Lisa Jeans says: 'You'll feel results physically as well as emotionally – it's not just a bunch of women om-chanting around'. www.thecompleteretreat.com
India has long been a popular place to relax and find some inner peace, with Goa the top destination for unwinding (and burning off brain cells). Assagao, however, is all about Ashtanga yoga, which is taught by a team of international professionals. Guests typically stay for two weeks at the centre, which is sandwiched between a small market town and the beach of Anjuna. It's a serene setting with locally sourced vegetarian food, hammocks, monkeys, a pool and the shala (yoga hall) reached via a walk through the retreat's perfumed tropical gardens. www.yogagoa.com
Care in the community
For some hard-core holistic help, try the Findhorn Foundation in Forres. It's a charity, spiritual community, eco village and international centre for holistic well-being. Its experience weeks are, according to Carin Bolles from Findhorn, 'perfect for finding out what the foundation is all about because you can engage as much or as little as you like'. You'll stay in a converted Victorian hotel or a bungalow and your week will include meditation, a nature outing and 'being part of a supportive group'. Findhorn has the lowest ecological footprint recorded in the industrialised world and was awarded a Best Practice designation by the UN.
Wow of Silence
If you want some spiritual R'n'R but aren't keen on timetabled classes and wheatgrass shots, try a few days at the Santuari del Puig de Maria.  You can stay near Deia at the Off-Grid hikers halt (www.off-grid.net. Puig's an old monastery dating back to 1348, perched on a hill overlooking the town of Pollença in Mallorca's Serra de Tramuntana mountains. It's a modest affair, reached by a 45-minute walk up a dirt track (supplies for the hostel have to be quad-biked up). And while it's popular during the day with hikers who schlep up here for the astounding views, at night you're alone with your fellow guests to enjoy Mallorcan fare, the eerie chapel and the deep, deep silence. Tel: +34 971 18 41 32.