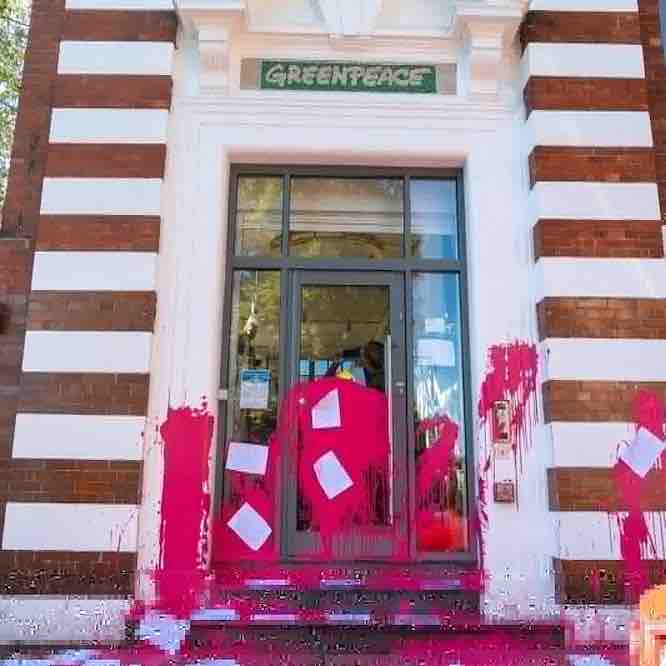 Some of the leading names of Beyond Politics, a new British political party, were arrested and charged last week for daubing paint on the steps of two of the country's best-known climate charities.  They spent two nights in detention before being freed awaiting court hearing.
The four campaigners who handed themselves in at Brixton police station, accused the NGOs and their bosses of standing by as the climate crisis intensified, lining their own pockets through lavish pay and benefits, and behaving just like the multinational corporations which provide much of their funding.
The activists told Greenpeace and Friends of the Earth:   "For decades you have preyed on the hope of both the young and old, conning them into giving their £3 a month, so you can save the world for them. Conning them into thinking that emails, petitions and polite lobbying would do the job. While all the time you were just data mining, raising money for yourselves."
Last Tuesday 21st July, Roger Hallam (co-founder of Extinction Rebellion), Valerie Brown, Beyond Politics prospective mayoral candidate in the forthcoming London mayoral elections, and two other Beyond Politics activists, set out to challenge the FoE/Greenpeace strategy which they characterised as "compromised by alignment with government,  sitting in cosy offices, (doing) soft, caring work around the world funded by companies…"   they called on the NGOs (also including Christian Aid and Amnesty)  to change to a more extreme form of "activism, disruption and engaging in non-violent civil disobedience …(as) … a concrete plan to stop Climate Crises is demanded right now.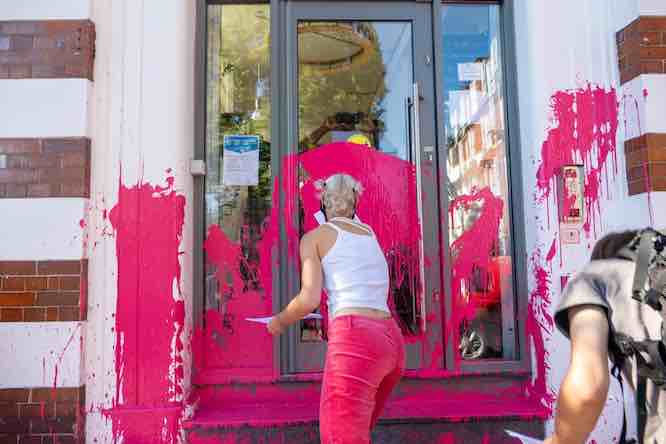 BP mayoral candidate,Valerie Brown, who was jailed, said:
"We spent 48 hours locked up separately in windowless cells with bright lights which never switched off day and night, After hours of waiting, food was pushed through a tiny hatch. We had no shower, no toothbrush ( you are not allowed anything into the cell), barely any contact with anyone. We were released on Thursday at 4pm to a small crowd of our alliance of the willing, our crew come to meet us with love and hugs holding up our banner saying Beyond Politics."
"With all due respect, these NGOs were set up 30 years ago or more," said Brown. "In the past 30 years, this planet has put into the atmosphere more carbon than since the dawn of humankind, created islands of plastics the size of France.  We have pollution, hurricanes, rising sea levels, forest fires,  pandemics. The latest scientists reports are saying we have 6 months to radically change systems of economy which are leading humanity and all life on Earth to a terrifying end-state.
"We are non-violent, we care about this planet, we are risking our freedom, we are Beyond Politics –   a new anti-political party with a mission to bring down the government if they don't react like caring leaders.
"We visited Amnesty, Greenpeace, Christian Aid and Friends Of The Earth and splashed shocking pink paint over their entrances and left them a letter begging them to help us and step up on their game. Over thirty years, the public have faithfully donated to the causes they have expounded ( and yes they did help for a time to bring awareness and care to people's suffering). But the world has changed. Things are far worse, governments and big business have now proved indisputably that they don't give a fuck, the Climate Crises is reaching its zenith and we are still waiting to hear government say something that sounds like they are taking it absolutely seriously…making it NUMBER ONE priority  above all else and certainly above return to normal during Covid 19.  Clearly tactics have to radically change due to their unbelievable failure to act.
"We handed ourselves in for arrest at Brixton Police Station after mission was accomplished sometime around 5pm on Tuesday."
The court case is scheduled at a Crown Court in early November.