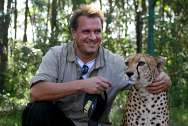 A low tech, man-powered  yellow submarine may not be high on the list of requirements for la vie off-grid, but French adventurer Stephane Rousson and designer Minh-Lôc Truong have gone ahead and made one anyway. In Rousson's garage.
The Scubster  is the world's first pedal powered submarine and it has recently successfully finished its first test in the Mediterranean off Nice.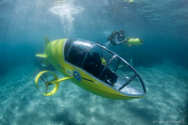 https://www.youtube.com/watch?v=AKQFmLqW1nQThe yellow carbon fibre mini sub is about fourteen feet long, eight feet wide and five feet high. Steered by two pedal-powered directional propellers, it can reach a depth of twenty feet. Depending on the fitness of the pilot, Rousson claims  it can hit a maximum speed of 16 kph  –although only in very short bursts. A more sustainable top speed would closer to 8kph and even that would be tough, he admits.
That may not sound terribly impressive. But the Scubster is designed primarily for speed. Rousson and Truong are hoping to enter their submersible in next year's International Submarine Race at the Naval Surface Warfare Centre  in Bethesda Maryland, between June 27 and 12 July.
If it can replicate this performance, it has every chance of winning. The race is now in its twentieth year. Although speeds are gradually creeping up, last year's winner managed just 6.298 knots over the 100-meter course.
Scubster is a strangely beautiful object –sufficiently beautiful to have appeared as a photo of the week in Time magazine a couple of months ago. But it is all the more remarkable for being essentially a DIY project.
"We have financed this by raising money from friends, borrowing equipment from local companies  and doing all the construction work ourselves ourselves in my garage," said Rousson. "I know how to do carbon fibre moulding and we have had help from local students."
The design of the machine is loosely based on the nose of the Sword Fish –the fastest creature in the sea. And it has all been put together in months. "I heard about the competition last year. In August I asked Minh-Lôc Truong to design a pedal powered version which took three months. I have spent the last nine months or so building it in my garage," said Rousson.
Mind you he has form in the area of pedal powered transport. In 2008 he attempted to cross the English Channel on a pedal-powered airship. But after four years of preparation he was forced to cancel the crossing at the last moment due to high winds.
"Once you have built an airship, the submarine operates on nearly the same principles," he explains. The main learning was to use twin propellers on the side of the craft so they steer it. "It makes it very manoeuverable, up, down, forward and even backwards are easy this way."
The year before that Rousson was involved in the Theolia Windream One Project, which aspired, perhaps unrealistically, to cross the Atlantic with a small 2 person airship. He says the purpose of his sub is for study. "Its a low impact exploration tool for scuba divers and scientific research."
But yes, he supposes it could be sold as a recreational vehicle. "We haven't worked it out yet, but I think it would cost between E40,000 and E60,000. (USD 50,000-75,000). "Mind you," he says, "its still a bit dangerous. Really its an adventure and great fun." ENDS