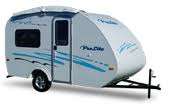 The Prolite Suite is a travel trailer small enough to be towed by a Smart car but large enough to sleep two< With their ability to pack a bedroom, dining area and kitchen into a small space, travel trailers are a great idea. But their convenience has traditionally been offset by their substantial weight; most require full-size cars, trucks, or minivans capable of towing them. The Prolite Suite has rewritten the rules on travel trailers. Although it can sleep two people and comes with a double bed, table, mini-fridge, and portable stove, the Prolite Suite only weighs 250 kilograms (550 pounds). That's light enough to be towed by a two-seater Smart car, which is how Roulottes Prolite (www. roulottesprolite.com) likes to showcase this Lilliputian home on wheels.
"We built the Prolite Suite to make travel trailers accessible to compact, subcompact and even Smart car owners," said company spokesperson Pierre Pesant. "It's not just about the weight. The Prolite Suite is 4½ feet wide, which means you don't need special mirrors on your car or truck to see around it."
Structurally, the Prolite Suite is built upon a steel frame, with fibreglass walls and sides glued to wooden and metal supports. The interior has a small folding table that can be removed for outside use, and a two-seater cushioned sofa that folds down into a double bed. The inside height is just fourfoot-four, which means that you may have to stoop a bit. But with windows in the back, side and in the door, you shouldn't feel cramped.
This trailer's internal power supply is all 12-volt DC, which is why the Prolite Suite uses a Coleman electrically-powered cooler as its fridge. Cooking is done on a two-burner Coleman propane stove, which can be used inside or outside on the trailer's portable table. The Prolite Suite also comes with built-in 12-volt LED interior and exterior lights, and a roll-up awning over its door to provide more space. An on-board 12-volt battery is charged by your car's electrical system, when you're on the road.
"If you need heat, the Prolite Suite comes with a Coleman portable propane heater," Pesant said. "Meanwhile, a roof-mounted pop-up vent with fan helps keep it cool, along with the windows and door.
"The trailer also has some internal and outside storage cupboards, and a DC-to-AC converter for powering household appliances – as long as they are not too demanding."
Of course, selecting the smallest and lightest of all possible travel trailers requires some sacrifices. The Prolite Suite does not have running water, a sink, a toilet, or a shower. Its tight interior space means that, even with the windows, being forced to spend excessive amounts of time inside the trailer – say, during inclement weather – could make for some emotional strain.
The Coleman electrical cooler does not have a freezer. And forget using the Prolite Suite in climates where air conditioning is a must at night, unless you bring along a portable air conditioner that can be plugged into an external power supply.
This said, the Prolite Suite's shortcomings can be offset. For instance, today's portable chemical toilets are about the size of a plastic milk crate. What's more, they are so clean and odorless (if properly maintained) that keeping them inside a travel trailer or car trunk doesn't cause problems.
Meanwhile, Coleman makes a combined propane stove/oven, a propane-powered water heater and a 12-cup coffee maker that works on a propane stove. Add a fold-up kitchen with sink, a foldup picnic table and fold-up chairs that can all fit handily inside the Prolite Suite on the road, and you can make this small travel trailer do quite a lot. Just make sure you have a bulk water container with you. One on wheels can be a big help at campgrounds where they provide water from central taps.
"We don't pretend that the Prolite Suite is for everybody," Pesant said. "This is why Prolite makes a full range of trailers, in sizes large enough to hold families and with pop-out sides for extra space.
"But if you are looking for the smallest, lightest trailer, then the Prolite Suite is a very good choice. And at a price that starts at $6,995 plus tax, it is also extremely affordable."
TIPS ON USING A SMALL TRAILER
The Prolite Suite is the smallest travel trailer you could find.
But there are other small travel trailers such as the Safari Condo Alto built in Quebec (www. safaricondo.com) and the teardrop-shaped T@B (http: // tab-rv.com). So shop around before you buy.
It is possible to save money and weight by purchasing a small pop-up trailer that combines travel-trailer amenities with tent-fabric sides. Of course, you will have to pop up your pop-up every time you want to use it. A fixed-wall travel trailer is ready to use whenever you stop.
Remember: The more you can live outside of your travel trailer, the less living space you need inside. Less space allows for a smaller trailer, lowering your purchase price and reducing gas consumption on the road. (More weight hauled = more gas burned.)
Don't blow the weight you save on your travel trailer by overloading your car. Hint: a laptop PC equipped with a DVD drive and TV tuner can do triple duty as a computer, video player and in-trailer television.
Whatever car you intend to haul with, you need to have a proper towing attachment and electrical system installed. Don't tie the trailer to the bumper! You may also need to have additional cooling added to your transmission system, to offset the extra work it will have to do, hauling you and the trailer. Check with a mechanic/dealer that you trust for advice.
ROULOTTES PROLITE / The Prolite Suite travel trailer weighs only 250 kilograms, making it light enough to be towed by a two-seater Smart car. Built in Quebec, it comes with a double bed, table, mini-fridge and portable stove.;
Auto Amazon Links: No products found.