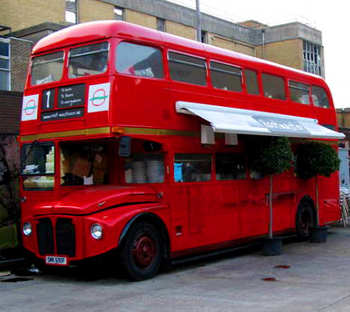 In San Francisco, the new trend is bustaurants, restaurants built into buses complete with kitchens and dining rooms. While this region didn't invent the bustaurant — that mantle  goes to a double-decker in London named The Root Master — the Bay Area has evolved the concept and is now home to two moveable feasts, which attract equal parts adventurous diners and bus-loving kids.
One is Diamond Lil, a converted silver 1957 Greyhound that takes up to 16 diners on private mobile eating adventures or caters for larger parties where the bus becomes part of the entertainment. Co-owner Kai Schoenhals, who was inspired to do a bustaurant by Napa's Wine Train, says Diamond Lil's menus "change with the scenery." He adds: "We go wherever the grades, curves and overhanging objects allow."
Then there is Le Truc, a 36-foot former school bus that this month began serving at festivals and regular gatherings of mobile food vendors, dubbed Off the Grid. Le Truc's owners bought the used bus for $3,000 and have invested more than $100,000 in the business, including outfitting the bus with a grill, roof vents, speakers and a digital ordering system.
Bustaurants handle the dining experience in different ways. Sometimes food is cooked in a normal kitchen or outdoors, or on the bus's own kitchen stove when parked. (Cooking food while a vehicle is in motion is against the law.) Appetizers might be consumed while the bus is in motion, but in Diamond Lil's case, dinner is served once the bus is parked, or outside the bus.
Blake Tally, co-owner of Le Truc, says his bustaurant counters a stereotype, however undeserved, that mobile food operators serve greasy, cut-rate food. "People stigmatize the 'roach coach,'" says Mr. Tally. "We are a 'broach' coach. People are easily going to be sitting there eating and forgetting that they are in a bus."
At a recent Off the Grid event at Fort Mason Center, guest chef Jennie Lorenzo, formerly of noted San Francisco restaurant Fifth Floor, prepared sashimi in Le Truc's full-service kitchen. She served the food through a window on the side of the bus and at two prix-fixe tablecloth-covered seatings inside the bus for $35.
"Living in the Bay Area, you're always trying to find something unique among the unique," says diner Susan Lieu, a boutique chocolate maker.
Both Le Truc and Diamond Lil are in their early stages and working out kinks. For Diamond Lil, those problems include motion sickness, vehicle suspension — and even sliding tableware. "We consider nautical and aeronautical models," says Mr. Schoenhals.
At Le Truc, perhaps the most vexing challenge has been getting the needed permits for the bustaurants to take more regular routes. Mr. Tally says the business plan is to park nightly near bars that don't have service food of their own.
"We have a lot of interest from bars that want us to be near them, but the zoning of San Francisco is bureaucratic," says Mr. Tally, who has been working for months to get permits to serve food from Le Truc around town. "We could spend $50,000 in one year getting all these permits required to operate in 10 locations on private property, and the whole time we're stuck not running."
For now, Diamond Lil has focused on occasional underground dining adventures and events like Wine & Spirits magazine's Top 100 tasting event on Oct. 13. Eventually, Mr. Schoenhals and his chef partner hope to open their own physical restaurant in San Francisco, with the bus parked in front.
Matt Cohen, who runs mobile-food-consulting company Pave Services and organizes Off the Grid, says it is difficult to operate a food truck legally and stay in business. Currently, each stop on public property needs to be 300 feet or two blocks (whichever is further) away from similar types of restaurants, and it costs more than $8,000 to apply for a permit for five stops on public property, among other regulations.
"There is no mechanism for a mobile vendor to do a one-off thing and sell for just one night," says Mr. Cohen.
San Francisco Supervisor Bevan Dufty recently introduced legislation that would cut back on some of the red tape and put the Department of Public Works — rather than the police — in charge of regulating buses. The board could hold a hearing on that legislation early next month.
Not everyone is sympathetic. Daniel Scherotter, chef-owner of San Francisco's Palio d'Asti restaurant and a former president of the Golden Gate Restaurant Association, says he worries about the damage a bustaurant could do to business at a regular restaurant, should one park nearby. Worse, he says, bustaurants might hog precious parking spaces.
Mr. Tally says brick-and-mortar restaurants shouldn't see bustaurants as unfair competition. "I pay rent and workman's comp and taxes, just like them," he says. "The differences between building a bustaurant and a restaurant in the city are really minor."