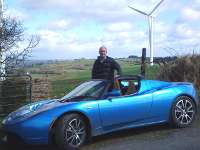 Otto Poldermans charges his twilight blue Tesla Roadster exclusively with renewable energy at his off the grid  farm in a remote valley of Spain's Sierra Nevada. The "retired plastic surgeon and electronics engineer" likes half a mile from the nearest grid, and also has the option of recharging in the local village.
The Roadster can be recharged at millions of conventional power outlets throughout Europe. In addition, "Project Movele" is building free charging stations in Seville, Barcelona and Madrid , but they are of little use to Amsterdam native Poldermans who will use his car to get to the nearest town, a kilometer away, for supplies.  He bought the car just a few weeks ago, making him the first off-grid owner of a Tesla.  Poldermans has two kiloWatts output from his PV panels on trackers and "three micro turbines in a mountain river," he told us by email.
Tesla is the only automaker currently selling highway-capable electric vehicles in the United States. Tesla sells cars directly to clients, both online and at 10 showrooms in Europe and North America.
The Roadster accelerates faster than supercars that cost twice as much, yet produces zero tailpipe emissions and is twice as energy efficientas leading hybrids. The Roadster, which consumes no oil whatsoever and plugs into conventional 220-volt sockets throughout Europe, is the only sports car in the world that can be charged with solar, hydro or wind energy.
Spain, a leader in the development of solar energy, expects to derive 12 percent of the nation's primary energy from renewable resources by the end of this year. That means Roadster owners in Spain get to drive world's hottest sports car– and charge it from one of Europe's cleanest energy grids.
The Roadster qualifies for a national rebate of at least €6,000 and a provincial rebates of €3,000 or more. Spanish owners get 75 percent off the yearly car tax. Roadsters get free metered parking and free use of the high-occupancy vehicle and bus lanes – a priceless advantage in the dense traffic of Madrid and Barcelona, but of little value in the Sierra Nevada