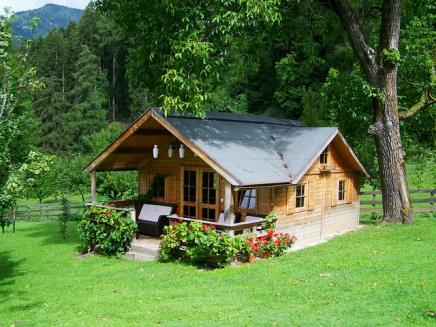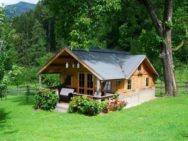 There's no doubt about it, the tiny house movement has well and truly taken off. Please let us know your favorites (news@off-grid.net). Extreme downsizing has become very popular, with a smaller space offering easier upkeep and lower utility bills. The average tiny house is 186 square feet – truly tiny! With prices of building your own tiny home being around $23,000 on average (remember Joseph's upcycled shipping container home?) it's not hard to see why it's so popular. Even having someone else build you a tiny house, prices start around the $45,000 mark. This is a great deal cheaper than the price of the average American home which runs into the hundreds of thousands of dollars. Therefore, a good many tiny house owners do not have a mortgage, giving financial peace of mind.
A survey conducted in 2015 by TheTinyLife.com found that retirees are becoming a large proportion of tiny house owners. The results showed that 30% of just 2,000 respondents were aged between 51-70 years. Of course this makes sense, as people reach retirement age downsizing is common practice – and you can't downsize much more than a tiny home! When looking for a tiny house when you're not as young and nimble as you used to be, it is important to look out for certain features. These include: easy to reach storage to reduce awkward stooping and stretching; a single storey tiny house, or a main floor bedroom – avoid loft sleeping areas with ladders! Accessibility is also important; whether this be wide doorways, walk in showers, ramp access or building low to the ground.
Here are ten tiny house companies, offering retiree appropriate (and non-retiree) products which could very well seal the deal for you!
Based out of the Squirrel Hut mini-office in Olympia, Washington, Zyl Vardos builds unique and customisable small structures. The tiny house products offered vary in price from $45,000 to above $96,000. Currently their website showcases 10 of the tiny houses offered, but if you fancy having one designed to your own specification, that is also possible.
Their "Little Bird" Basic option is one of build options available. Coming in at $68,000, with a  22 ft x 8 ft floor space, this home has a copper roof and cedar exterior. With a single French door, 6 windows and a kitchenette, this tiny house has everything you would need. The bed nook happily fits a queen mattress, with room to spare, and a flush or compost toilet can be fitted.
If you would like to upgrade to the "Advanced" option of the Little Bird you can – for an extra $10,000. This upgraded model includes a tiled bathroom floor, oak floors, double French doors, expanded kitchen storage amongst other features. Custom options for a retiree such as wider doorways and a raised toilet can be included at an additional feel.
Zyl Vardos have a building slot available in June 2017, so if this has piqued your interest or you want to let your imagination run free with your own design – contact them. Their YouTube Channel, also gives some great insights into their range of tiny houses!
A variety of options await you with the ability to design your perfect tiny house in less than 10 minutes! Base model prices begin at $62,950, with the Cypress and its recess porch being the most popular. Each model can either be 20ft or 26ft in length, offering 188 square feet and 269 square feet of space respectively.  The floor plan options can be customised to your needs, so you can truly put your stamp on the build.
Designing your own tiny house involves you choosing everything from roof colour and window style to interior walls and extra features. Oak, Bamboo or Walnut flooring – the choice is yours! Cabinet colour? Which stairs to get to the loft? Warranty length? All of these choices and many more are placed directly in your hands, giving you a quote for the exact tiny house of your dreams. Off-grid options are also available.
Check out their gallery for some images of what some people have done with their amazing tiny spaces.
This company offers a variety of RV model and park model RVs, which come with basic and custom packages. One of the larger park model options, the Getaway has 400 square foot of space. It comes with a full size bathroom, kitchen with all appliances and private bedroom with queen size bed. The beauty of this home is it is all on one floor, so no pesky stairs or ladders to bother with. Panoramic windows offer breath-taking views to the great outdoors, with the option of an open deck, screened porch or even a sun-room for that extra oomph. Retailing at $88,700, this is a more expensive option, but offers a larger space with plenty of storage and all the comforts of home.
Off-grid options like solar panels and composting toilets can also be added into the designs offered. Depending on the model and customisation options, your Escape can be built in as little as two months and can be delivered to you (charges variable).
To find out more, visit the FAQ section on the Escape website to get into the nitty gritty of these tiny houses.
Offering compact moveable, customisable housing and home care cottages from $49,500 what's not to like? Although, technically Little House on the Trailer is not a tiny house company, the models they build are still on the small side at 400 square feet. The home care cottages are aimed at retirees, allowing parents to live in the backyards of their kids, whilst still having their independence and own space. The selling point of this company is the heavy involvement of the client with the design of the homes. The time it takes from design to delivery is on average 2-3 months. If you fancy seeing one of the models, their display yard is open Saturdays 10 am to 4 pm.
To see more of the beautiful small spaces Little House on the Trailer builds, take a look at their gallery!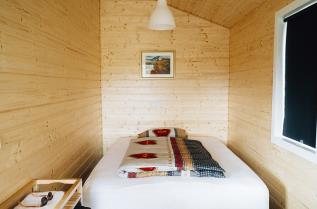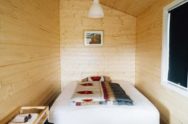 Like Little House on the Trailer, this company specialises in building small cottages in the backyards of existing residents. Therefore, they are built on permanent foundations and the utilities are tied to the main residence. Aimed mostly at retirees, these tiny houses are also marketed as potential home offices or man caves! Ranging in size from 256 square foot to 588 square foot, there can be ample room inside these tiny houses.
Aiming for the middle ground, the single storey Floridian model comes in at a nicely sized 448 square feet. With a spacious living area, private bedroom with walk in closet, accessible bathroom with walk-in shower, this has everything you could possibly need. It is also fully customisable, so added extras are also possible. The price for this model is $85,000 – $100,000 depending on options chosen. The minimum price for their smallest tiny house is $55,000. These tiny homes typically take between 5 – 6 months to build.
Check out Home Care Suites' floor plans to see if any are right for you, or even just for a bit of inspiration!
Not as flexible as some of the other companies mentioned, the Minim House comes as a standard basic home unit. It does however have a few options for customisation. The 12 foot by 24 foot space has an aluminium clad door, six windows and a solid walnut floor. The kitchen area has a stainless sink with foot pedals for hot and cold water, whilst the 4 foot by 6 foot bathroom has a separate walk in shower. A low flush toilet comes as part of the build, or the customer can install a compost toilet at a reduced price. There are plenty of handy storage areas, for instance, the 5 foot sofa opens up to reveal hidden storage space.
Options to add on to the home include a trailer, extra windows and an off –grid package of solar system and refrigerator. The price for this mini home is $71,000 and can be delivered to you for an extra cost.
Check out this pdf document for more on what's included in the Minim House and prices for optional extras.
This company builds tiny houses to suit any design and need and are fully customisable. However, there is one condition – it has to be fully off-grid and self-sustaining. Plus, they aim to build the whole thing out of recycled materials (or as much of it as they can). This is what they achieved with the "Steely Cottage", a 200 square foot space built on a 24 foot by 8.5 foot trailer. With a self-contained solar system, a composting toilet and grey water drainage system, this tiny house can go absolutely anywhere. As long as there's sunshine and water to fill the tank of course! Plus, with its full size shower and queen size mattress bed, who says good things don't come in small packages! The Steely Cottage costs $50,000 and can be shipped for a fee.
This company offers two main styles of tiny house, the V House and the Acorn. From these the company can build something customised entirely by you. V is for versatile and that certainly suits the V House down to a T! A 120 square foot (8 foot by 15 foot) V House comes in at $35,000. However, this can be made larger – up to 250 square foot – double the size! Typically, each additional square foot is around $200.
Built to your specific needs, your tiny house can be furnished with custom built furniture. Alternatively, you can adapt the original floor plan to add rooms or multiple lofts for more storage. Really very versatile! Plus, the tiny house can be built to be fully off-grid. However the price tag does increase up to $10,000 for this. Typical building time for one of these projects is between 12 and 24 months depending on the specification.  Currently, the company only delivers to certain states in the US – Washington, Idaho and Montana.
Check out a tour of the V House, plus check out the Nelson Tiny House YouTube Channel!
Another company with a variety of models, which can be delivered nationwide! One model is even named "Tiny Retirement". Designed specifically for retirees it is based on a single level – no stairs in sight! Plus, with the entryway located at one end of the building, this allows space for a bathroom at the other. This leaves plenty of room  in the rest of the space for a full size bed!
However, if you don't want to buy a model with "retirement" in the title, the Tiny Studio model can be customised to your needs instead. Options such as slip resistant flooring and a ramp are available! This tiny house has 160 square foot of space with kitchen and dining space on a slightly raised level. Underneath this platform there is a roll-away bed which becomes seating space when put away. Plus, being built on a mobile trailer, the tiny studio can go anywhere – just because you're retired doesn't mean you have to stay in one place!
Last but by no means least is Creative Cottages, which create custom energy efficient homes using environmentally sensitive building practices. Their Oceanside Retreat is a beautifully crafted 422 square feet which is liveable all year round. A single storey layout, with bedroom, kitchen and bathroom facilities, whilst the sliding glass doors ensure there is lots of natural light, making it bright and airy. Custom built on foundations, this is a more expensive option compared to the other choices outlined above, coming in at $238,000.
Creative Cottages also only services the Mid-coast Maine area. However, there is the option to buy plans from them (at a cost of between £1,850 and $2,300) and hire a contractor to build your very own creative cottage elsewhere.
These are just some of the tiny house building companies out there. It is clear there is a wide range of scope and creativity when it comes to building these mini homes. But it is easy to understand why so many people have fallen in love with them.