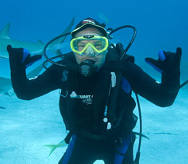 Les Stroud: special needs We always thought Les Stroud was a total divit, and now it has been confirmed.
The self-regarding air-head who fronts the Survivorman series on Canadian TV recently gave this pompous interview to a Canadian outlet about his practices when travelling.
If you sit next to this guy on a plane- be warned – you will want to strangle him.
ON PLANE TRAVEL: "I always give back the napkins they insist on giving you with every tea you order.
If I'm not in first class, I always wait to be the last one to get on the plane.
I ask the stewardess' name – it's nice to call people by name and you get better service.
I wait until the crew give me heck before I turn off my laptop or my BlackBerry and I always put my seat back to recline once they walk away – but don't tell anyone."
On a long trip, I do yoga stretches."
Probably the Econazzi web site loves him. He told another interviewer recently: "I'm a hell of a great dancer?"
And Les Stroud's favourite tool?  Himself. Only joking – its the Leatherman Wave – you can buy it here.