Australia is in the grip of its worst drought on record — the victim of changing weather patterns attributed to global warming, and a government that is only just starting to wake up to the severity of the position.
The federal government is struggling with expensive proposals to desalinate sea water and recycle raw sewage. Meanwhile some locals have decided to meet the crisis head on.
Kim and Paul Roginson of Elimbah in Queensland say if their bore water ran out tomorrow, they would start drinking their recycled sewage water..
%authorad4%
The couple went water-wise more than 10 years ago and will soon be off town water, relying on a bore for household water needs while their own sewage treatment plant recycles water for outdoor use.
Most Australian mainland capital cities are facing a major water crisis with less than 50% of water storages remaining – heralding what could be the first climate change-driven disaster to strike a developed nation.
The causes of the current drought, which began in 2002, and has been felt most acutely over the past six months, are complex. Few scientists dispute the part played by climate change, which is making Australia hotter and drier.
Kim and Paul, who live on small acreage near Caboolture just north of Brisbane, say if the bore ran out they would definitely drink the recycled sewage water because they know it's pure as a result of home filtration. A sewage treatment plant at home means that only natural products are used when cleaning.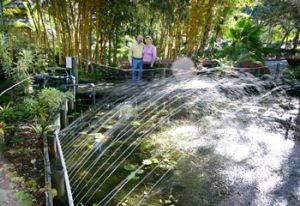 Kim and Paul Roginson – Water Conservationists
"You revert to natural things, such as vinegar and bicarb soda and types of washing powder and dish-washing liquids," Paul, 49, said. "We don't use toilet disinfectants."
The Roginsons' waterwise practices have meant that while water restrictions take their toll on many Queensland gardens, theirs flourishes.
Kim and Paul live in a three-bedroom house and Kim's parents, Dawn and Ron Sinclair, both 69, live in a two-bedroom cottage on the property.Inside both homes, water-saving products have been fitted, including front-loading washing machines and water-efficient shower heads.
No waste water or effluent leaves the property, going straight to the household sewage treatment plant. There, a BioCycle system digests solid wastes and disinfects water through a series of controlled biological processes in six chambers.
The odourless recycled water is then pumped on to rainforest gardens in the centre and rear of the property.
Dry spells were the major motivation behind the Roginsons' water-saving garden. And it was also a chance for Paul to apply recycling principles learnt with Australian company Osmoflo. The business specialises in treating water used in a range of industries, including hospitals and island resorts.
"I see first-hand the extremely high quality water that can come from waste water."
Unlike most properties in their area which have taken a hammering from the worst drought in a century, the Roginsons' 1 hectare of gardens over a 2ha plot is a thriving sanctuary.
The subtropical garden with Asian influences at the front of the property owes its beauty to a small dam and underground bore water, established in the mid-1990s.
The dam holds about 100,000 litres and collects rainwater and roof run-off water, which is guided to the dam along natural drains along the property.
Gravel or some other porous surface is used instead of concrete to give any rain the chance to replenish the dam rather than running off into stormwater drains.
The bore, which is 48m deep and can produce 1000 litres of water an hour, automatically fills the dam when levels drop.
Paul said they hoped to be off town water in the next 12 months, relying solely on the bore for all household water.
"We want to make a conscious effort to conserve water, so that other people can learn from it," he said.
"We will be totally self-sufficient, from the drinking water to the gardens. It's for the sake of our children and grandchildren."
The final conversion from council-supplied drinking water to bore water will cost the Roginsons about $2000.
"Considering water bills are likely to more than triple in the near future, we'll cover that cost in the first couple of years," Paul said.
The dam is fitted with pumps to aerate the water, which prevents evaporation, as do the tall canopy of trees lining its banks.
Bore water is pumped to a large variety of plants in the garden, via controlled irrigation.
"There is about 2km of underground pipe work," said Paul, who does all the construction in the garden.
He installed a drip irrigation system that wets only the soil around the plants' roots. This means hardly any water is wasted through wind, evaporation, run-off or over-spray.
A layer of good mulch made locally is regularly applied to all garden beds to reduce evaporation from the soil surface by up to 70 per cent, also reducing weeds.
Since Level 3 water restrictions began in June, banning all hosing and sprinkling, the couple admit that passers-by get curious.
"We have to put up signage at the front of the yard, because people get suspicious when they see us hosing the garden," said Kim, who minimises over-watering by grouping plants of similar needs.
And while the green thumbs, with two adult children and one grandchild, have access to a plentiful supply of water, they were mindful about plantings, choosing drought-tolerant plants including natives and favourites such as crotons and impatiens. Even the lawn, a hardy type, is waterwise.
At the rear of the sprawling garden, herbs and vegetables grow in bathtubs, wheelbarrows and concrete tubs. And water can be collected from the bottom of tubs and re-used.
The couple's oasis has won many awards and is an inspiring example of a long-term project in sustainability