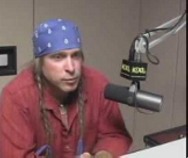 Cody Lundin, the survivalist author, spent two years spent living in a brush shelter in the woods where he slept on pine needles and cooked over an open fire, becoming disenchanted with his new role in the elite class of television survivalism presenters.
It seems like Hell may have broken loose after Cody issued a bizarre letter at the end of the first week filming his new series, Dual Survivor, for Discovery Channel.
"I have little if any control over how Dual Survivor is ultimately concepted, produced, and edited…." Lundin tells a small group of survivalism fans.
"Very few if any of the players involved with this show have any experience in outdoor survival skills. So what happens when "city slickers" design an outdoor survivalism show?"
LA Production company Juma Entertainment last year signed Mr. Lundin to a development deal with not one but two series in the works.
The first series, "Stranded," finds 12 people living in the extreme wilderness for 20 days and vying for a prize of $1 million. Unlike other outdoor survival reality shows, Mr. Lundin, the star and host of the series, will be living out there alongside the contestants, guiding them through the experience and offering advice along the way. The second series is based on Mr. Lundin's book "When All Hell Breaks Loose: Stuff You Need to Survive When Disaster Strikes." That series will take on the urban jungle, explaining what to do in the city in a worst-case situation such as the electrical grid shutting down, a building collapsing, etc.
"…watch the show, laugh, and learn a survival trick or two. But…never, ever base your emergency preparedness plan on a television show," Lundin tells his fans in what appears to be early disenchatment with the production process.
Lewis Fenton, head of production for Juma, said there are multiple networks after the latter series. "When we were in New York pitching the show, we realized that in this technological era, we have no survival skills. So we will explore how to find potable water, catch a sewer rat or get out of a trapped subway. Those skills are hot right now." -Chris Pursell