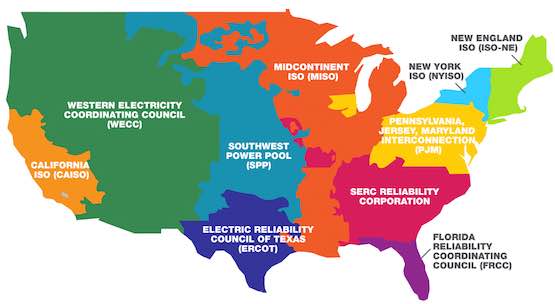 Sunnova Energy is seeking permission from state regulators to develop microgrids for mid-sized housing developments that would not be reliant on established electric utilities.
For more than a century, governments have offered electric utilities a monopoly on selling power to homes and businesses so long as they agreed to serve everybody and subject themselves to regulation.
But as homeowners have begun installing solar panels and batteries, that simple arrangement has become more complicated. That has led to fierce battles between utility companies and relatively young solar businesses that sell and install rooftop systems for use by homes and businesses.
On Thursday, one of the nation's largest rooftop solar companies, Sunnova Energy, asked the California Public Utilities Commission to let it directly compete with investor-owned utilities to provide electricity to homes in new residential developments as a private "micro-utility" — a business model that is illegal in much of the United States.
If it gets approval, Sunnova Energy will work with developers to install solar panels and batteries as part of home construction in developments with fewer than 2,000 units.
The company said it would offer those residents electricity that was up to 20 percent cheaper than the rates charged by investor-owned utilities like Pacific Gas & Electric and Southern California Edison. If approved by regulators, the micro-utility model, also known as a microgrid, could undermine the growth of those larger utilities by depriving them access to new homes or forcing them to lower their rates to keep that business.
Sunnova executives argue that the approach they are seeking approval for was authorized under a California law passed almost two decades ago for a resort just south of Lake Tahoe. In addition, the company says advances in solar and battery technology mean that neighborhoods can be designed to generate more than enough electricity to meet their own needs at a lower cost than relying on the grid.
"If they don't want to choose me, that should be their right; if they don't want to choose you, that should be their right, too," said John Berger, the chief executive of Sunnova.
A small number of homeowners have gone off the grid as the cost of solar panels and batteries has fallen. But doing so can be hard or impossible. Some local governments have rejected permits for off-grid homes on health and safety grounds, arguing that a connection to the grid is essential.
But connecting a single home to the grid can cost tens or even hundreds of thousands of dollars, which means an off-grid system may actually be cheaper — especially for properties in remote areas, or in places where the local grid is at its capacity and would require significant upgrades to serve more homes.
Off-grid setups can also be appealing because once a system is paid off, the cost of operating and maintaining it is often modest and predictable, whereas utility rates can move up sharply. In recent months, electric bills have surged because the war in Ukraine has caused the cost of natural gas to jump. The nationwide average retail electricity rate increased 11 percent in June from a year earlier, according to the Energy Information Administration.
But the kind of micro-utilities that Sunnova hopes to create have also had problems. The utopian visions of generating electricity where it is used have often run into maintenance and other problems. Many tiny utilities created under such models in the United States and Canada were later swallowed up by larger power companies.
Daily business updates The latest coverage of business, markets and the economy, sent by email each weekday. Get it sent to your inbox.
In California, the Kirkwood Mountain Resort near Lake Tahoe used a micro-utility to provide power to residents and tourists for years. But the electricity it produced sometimes cost up to 70 cents a kilowatt-hour, or three to five times the rates charged by larger utilities in the state. Eventually, the town of Kirkwood took over the utility and connected it to the state electric grid.
Sunnova's microgrid approach could suffer a similar fate. But the costs of solar panels and batteries have tumbled over the last decade, making the energy that off-grid systems generate much more affordable than when the diesel-based system in Kirkwood was built.
Sunnova is asking the state utilities commission to allow it to become a micro-utility under the same state law that allowed the one in Kirkwood. Mr. Berger said his company would work with developers to install solar panels and batteries as part of home construction in developments with fewer than 2,000 units.
Bernard McNamee is a former member of the Federal Energy Regulatory Commission, which regulates transmission lines, gas pipelines and other parts of the energy industry. He said that the traditional regulated utility monopoly model might seem antiquated but that it had ensured that everyone, regardless of income, had access to a generally reliable electric grid.
"What we need to make sure of is that the system is designed to provide reliable, affordable electric service to every customer," said Mr. McNamee, a partner at McGuireWoods, a law firm. "People throw around things like competition and markets. All of these things are complicated."
But Mr. McNamee acknowledged that regulators needed to figure out how to treat popular new technologies like residential solar and battery systems, which could make it possible for some homes or neighborhoods to generate enough electricity to function without having to draw power from the grid most of the time.
"Regulators are struggling with how to integrate these new technologies," Mr. McNamee said. "It's something we need to work through as a country, as states."
Utilities have been pressing regulators to reduce the compensation homeowners receive for the excess solar energy their rooftop systems send to the grid. The companies have argued that customers with solar panels are being offered generous credits for power that they are not contributing adequately toward the cost of maintaining power lines and other grid equipment.
California's utilities commission is expected to soon release a proposal on rooftop solar compensation after it scrapped an earlier proposal that many rooftop companies and homeowners criticized for being too favorable to utilities.
Rooftop solar businesses, which have grown fast in recent years, are confronting their own challenges, especially figuring out how to become consistently profitable. Many of them are reliant on the tax credits that the federal government offers to encourage the use of renewable energy. The Inflation Reduction Act, which President Biden signed recently, expanded and extended those credits.
Building and operating microgrids could provide a steady source of income to companies like Sunnova. That could essentially transform the rooftop solar companies into the kinds of utilities that they have long fought against.