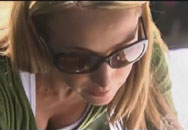 Dimma: Eco-fashionista The new editor of Canadian House & Home, Suzanne Dimma, says she is taking her second home "off the grid." That news is likely to send thousands of style conscious Canadians off-grid in her wake. As long as Dimma remains in style, that is.
" At my cottage (in Haliburton) we're going completely organic, completely green, off the grid and lots of natural textures." But she made it clear her off-grid conversion was entirely a matter of appearances: " At home, I definitely have brought in a little bit of the Hollywood glam thing," she added.
Suzanne,43 cut her design teeth at House & Home in 1995, working her way up to senior design editor.
Dimma was wrapping up the final week of taping for her television series The Style Dept., airing in Octoberr. "When I was really little," she revealed in a recent interview, "I spent a lot of time building models of houses and other structures out of cardboard."
" I have a fantasy house…………. a glass cabin floating in the woods".
%authorad4%
"I love my William Birch-style sofa. I might pair it up with something like my Eames potato-chip chair. Both of them are classics but together, they feel kind of funky and fun. Those two things will never go out of style.