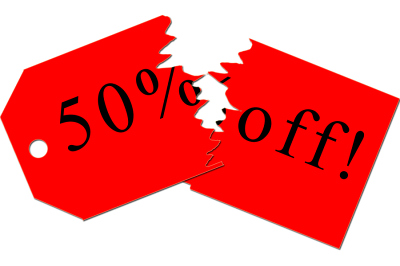 Christmas is over and the after Christmas sales have started, one thing to grab up now before they all vanish is LED light strings, yes the ones that are sold for Christmas lighting, they are being marked down right now, stores have to make room for the next big holiday, meaning that you can get some major bargains right now.
All month long, I have been looking at my local Alco store (it's like a small Target/dollar store with less stuff), I have been eyeballing the LED Christmas light strings, but have been biding my time knowing the price would drop dramatically after Christmas. Sure enough, a few days ago when I dropped in, I made a beeline to the back of the store for their Christmas section, I saw the sign, ALL CHRISTMAS DECORATION 50% OFF, that's all I needed.
I grabbed several spools of white LED lights in 150 led length and several in 60 led length. These take a fraction of the power to run as other lights. I intend on using them for defused, mood lighting in the sky castle, I have enough to light up the main room, the bedroom, the deck, the front and back steps with a bit left over. I am using these like LED rope lights, but getting them at a bargain price!
These are indoor-outdoor lights so I can use them on the deck and to light up the steps, I'll just plug them up when I need or want light out there. I'll be going back to town soon, I am hoping they will have some LED light strings left over when they drop the price by 75%!
Go get your lights now, this is the time to stock up on them :)
Auto Amazon Links: No products found.