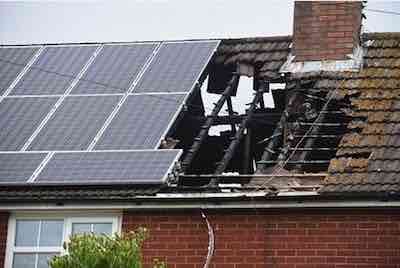 A spate of reports across the world pinpoint faulty solar installations as the cause of serious house fires. Badly installed isolators are just one of the possible issues. The problems worsen when it is not possible to shut off the solar power after the fire has started.
But there are positive sides to sad tales of homes being immolated by faulty solar: Here is one from Will Elrick in Australia
"In a moment without realising, a community not seen, then suddenly a community rallying around and are ready and waiting to help pick up the pieces.
About five weeks ago our house which we had only lived in for three months burned to the ground and everything was lost.
We are relatively new to the area and do not really know many people. We lived off the grid and in an isolated area; hence no-one saw the fire until my partner came home to find the house burned to the ground.
It was then our lives were changed. With this tragedy (it is still shocking to be writing this) we have found such amazing people around, and to be quite honest I am not sure where we would be without the community and their generosity.
The reason I am writing this, is that we would like to say thank you; thank you for your help, generosity and outright kindness.
Luckily we were insured (thank goodness) and this has highlighted the importance of this.
Another point to consider when living off the grid is solar. If anyone has solar please get a check up and make sure an expert comes and gives you a ticket of health. We will never really know what started our fire but the investigation found that a strong possibility was that the fire started from our solar system. I think solar is one of the future ways for energy production however like all types of technology it needs to be installed properly and checked regularly.
We were lucky in some ways as a large bushfire could have started but, because of the fire prevention work we did this was not the case. It is also important for the other property owners around the area and also the animal and plant kingdoms that we reside with that they weren't affected.
Again we would like to say thank you to our community, without your generosity and help life would be a lot different.
It is interesting that the fire affected us both differently; I still feel a huge sense of loss and sadness particularly for my partner as she had collected things from all over the world. She feels a sense of sadness but at the same time knows that life's plans are never totally determined by us, as outside influences play such a large part in the world; but indeed how we react to them and the gravity we give them is ours to own. I too am grateful that our love of nature and its preservation has truly stopped what could have been a tragedy for many animals and plants that share this small part of Australia with us, or is that us with them?"
Auto Amazon Links: No products found.