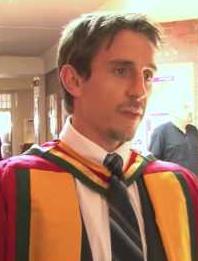 MANCHESTER United defender Gary Neville is building an earth sheltered eco home that promises to become one of Britain's leading environmental showcases.

Neville,34, has been nicknamed "Swampy" by teammates at MUFC, who call him an "eco warrior" because he drives a Prius. England's most-capped footballer is also a thinker, and accepted an honorary doctorate from Bolton Uni last year. Now the Manchester United defender is walking the eco-talk with a new $5m home set into the hillside of his estate near Bolton, Lancashire.
Almost all the home will be built into the hillside, which, according to design firm Make Architects, 'enables the surrounding moorland to seamlessly flow across the roof'.
The innovative design has been likened to a Neolithic settlement. But the technology will be space age. The Manchester United player will generate power from windmills, solar panels and a ground source heat pump. Any surplus will flow into his neighbouring mansion, and can also be sold to the grid.
The artist's impression suggests soft lighting in the 'six petals' of the house will prevent the home from being a blot on the landscape at night-time
Its flower-like blueprint has petals radiating from a central kitchen, each designated as respective areas to 'eat, relax, entertain, work and play'.
The architects have compared it to Skara Brae neolithic settlement in Orkney, because of the way it is built into the ground.
But locals prefer to compare it to the Teletubbies.