Photographer David Spero travelled round the UK, visiting and snapping communities that live in self-built, low-impact settlements for a new show in London.
Spero's record of his journey is "Settlements" – glowing images showing the reality of life in the woods in the UK. This example (left) shows the communal kitchen, round house and chicken coop, Tinker's Bubble, Somerset where a resident is working in the garden.
Spero also visited Steward Community Woodland, Devon and others in Somerset and Devon. Most settlement residents are off the grid in every sense and do not want to be identified, numbered, taxed, and subjected to UK planning laws.
At the launch of his show at
The Photographers' Gallery in Covent Garden London, Spero told us what characterised most of the people he met during the project was "how much time they had for others."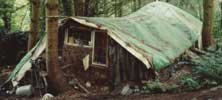 Chris, Shannon & Alex's
The structures, self built from local natural and recycled material, are often so in harmony with their environment that at certain times of year they become almost invisible.
Set in beautiful lush green settings in dense forests some of the homes have an almost fairytale appearance. With a close relationship to their natural habitat. The people who live there could be seen to live the way we imagine life used to be before the onset of industrialisation. However set in contemporary Britain each stand as architectural testimony to people who seek to live their lives today according to their ideological beliefs.
The Photographers' Gallery.
https://www.photonet.org.uk
5 Great Newport Street, London WC2H 7HY
Tel: + 44 (0) 20 7831 1772 (ext 213)