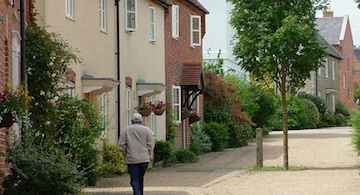 Britain's Prince of Wales is to turn a village he owns into the first in Britain to go off-grid with its 1,200 homes supplied entirely by renewable natural gas from decomposing crops.
Poundbury, Prince Charles "model" village near Dorchester has had its share of criticism in the past – its sterile and reminiscent of Celebration, the Disney owned town in the United States.
But there is no doubting the environmental commitment of the Queen's 63 year old son. The Duchy of Cornwall has worked with four local farmers to build an anaerobic digestion plant where grass and maize are broken down to produce methane.
The gas is already being sent to Poundbury and burnt to generate electricity for 750 of its homes and, from September, will be pumped directly into the pipes supplying the village and surrounding communities to be used for cooking and heating.
The duchy and the farmers hope to make healthy profits on the scheme because they will be able to claim feed-in tariffs, the subsidies offered to green energy suppliers by the government and paid for by consumers.
Nick Finding, the tenant farmer leading the scheme, said the prince's village would become one of the greenest in Britain.
"The system is now built and waiting for connection. The prince has been involved and came to see the project a few months ago," he said.
Anaerobic digestion (AD) exploits the natural process in which microbes break down organic matter in the absence of oxygen to produce methane.
The same process occurs in the mud at the bottom of ponds, generating the bubbles seen rising into the water, and in the stomachs of cows.
Artificial AD systems can run on a range of organic waste, including food waste, energy crops and even farmyard manure or human waste. Many sewage plants use a similar system to break down human waste, capturing methane and using it to power the sewage plant.
Under the Poundbury scheme, the duchy set up a joint venture with the farmers. So far, the plant has been connected to Poundbury by underground pipes, with the gas being burnt to produce power. The next step is to install a new plant to purify the gas so it can be used in domestic boilers and cookers. A spokeswoman for the duchy said the AD system would produce enough surplus gas to supply about 4,000 homes in winter and up to 56,000 in summer, when demand is low.
The scheme offers farmers other benefits, too. Finding and his neighbours have around 3,500 acres of land, used mostly for arable crops. The farmers will be able to grow maize and grass on fields going through "break years" and harvest them for use in the anaerobic digester.
"The digester will take 24,000 tons of maize, 10,000 tons of grass and 4,000 tons of potato waste a year and convert it into biogas. Then it will be purified, mixed with propane and fed into the local gas network to be used at Poundbury and beyond. Later we may start using food waste too," Finding said.
"In summer there will be enough to meet the needs of Lyme Regis, Bovington, Beaminster, Portland and other villages."
A further advantage is that residues left from biogas production are rich in nitrogen, phosphates and potassium, and so can be returned to the land as fertilisers.
For the prince, the Poundbury plan reflects a wider interest in low-carbon power. In 2010 he won permission to install 32 solar panels at Clarence House, his London residence.
He has converted his Jaguar and Land Rover to run on biodiesel derived from used cooking oil, while his classic Aston Martin runs on bioethanol fuel made from surplus British wine.
His enthusiasm for AD could help such technology spread, with insiders at Defra, the environment department, talking of a target of 1,000 AD systems on British farms by 2020. Currently there are just 50 such plants, compared with around 7,000 in Germany.
Jonathan Scurlock, the National Farmers' Union chief adviser on renewable energy, said: "AD uses slurry, manure and other low-value materials to produce green energy and high-quality fertilisers. We think every farmer should be producing green energy as well as food."
David Collins, head of biogas at the Renewable Energy Association, said Charles's Poundbury scheme showed how technologies such as AD could "help transform Britain's energy system".
Auto Amazon Links: No products found.