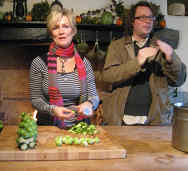 Hugh Fearnley Whittingstall's River Cottage in Dorset, UK has announced it is now completely off-grid ready.
River Cottage is the HQ of Fearnley Whittingstall's (pictured, right) food and lifestyle empire, and has been featured in several series on UK's Channel 4 TV. River Cottage has changed the way the British think about food, and it is likely they'll do the same for the way the UK thinks about energy and water.
In a recent episode River Cottage HQ installed a wind turbine which now provides most of its electricity requirements. Together with its water recycling arrangements (see below) the River Cottage is now off-grid ready, thought still connected to the Grid and selling surplus energy back to it. Fearnley Whittingstall said that in moving towards going off-grid he was pleased to "support this pioneering community."
"At River Cottage our philosophy of sustainability extends to the energy we use.  Since we want to have as low an impact as possible on the environment around us,  100% of the electricity …. comes from renewable sources – wind, water and sunlight," said Fearnley-Whittingstall.
"We wanted to be part of this community of sustainable energy pioneers, so we installed our own turbine at River Cottage HQ too. We have been amazed by how much it generates and it's great to see it flying around and know we are making our own clean green energy."
A telemetric monitoring system sponsored by Good Energy lets you see how much electricity is being generated at any one time at River Cottage by clicking here.
River Cottage HQ has been designed and built on sustainable principles, ranging from the materials used in the buildings to a self-sufficient rainwater harvesting and recycling system. When the project is complete, RCHQ will be a zero carbon, off-grid site running on a variety of renewable energy solutions providing all heat and power requirements.
About River Cottage:
In 1998 Hugh Fearnley-Whittingstall moved into the original River Cottage in Dorset, to start growing and rearing some of his own food. 'River Cottage' has since moved on, and has grown and developed, but continues to stand for the same principles: self-sufficiency, food integrity, and the consumption of local, seasonal produce.
Today, River Cottage consists of several different projects. River Cottage HQ (Park Farm) is a base for running courses and events inspired by the philosophy of the original River Cottage – ranging from a night's dining and entertainment, through to courses in foraging, curing, gardening, breadmaking, butchery and more. River Cottage also has a Local Produce Store and Canteen in Axminster, which sells a wide selection of everyday food items, books and smallholder supplies with the Canteen attached offering a seasonal, local menu. The latest venture is the recently opened River Cottage Canteen at Komedia in Bath.
RCHQ is a holistic, sustainable infrastructure which when fully implemented will produce a zero carbon, off-grid, site running on a variety of renewable energy solutions to provide all heat and power requirements and a fully integral biodiversity drainage and water management system.
River Cottage Features include:
Biomass Energy System – provides all of the heating and hot water demands of the site.
PV (photovoltaic) Powered Water Pump which brings all the potable water from the artesian well into the site.
Rainwater Harvesting System – 13,000 litres of harvested water which provides all the garden and agricultural water on the site and is used to flush all the loos.
Biodiversity Reed Bed System – cleans and process all of the effluent from the site into clean water.