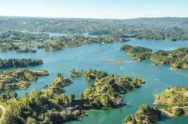 While some of the world's wealthiest reserve themselves "bargain" apartments in central London for up to £22.5 million, other realty agents representing large landowners say they have been flooded with enquiries from the Middle East and Asia's wealthiest seeking an investment that can serve as both a bolt-hole from the raging pandemic and a long-term investment.
Mansions and apartments in ultra-desirable London locations like Islington, Kensington and Notting Hill are being shown remotely by agents via 360-degree online tours, allowing prospective buyers to view the property without leaving their home.
Among the properties currently available to view include a six-bedroom Belgravia mansion, on the market with Beauchamp Estates for £22.5million, and apartments in Borough, south London, from Galliard Homes, which are available from £1.3million.
Jeremy Gee, managing director of Beauchamp Estates received interest from buyers from the UK, Middle East and Far East who are looking for a secure investment amid the ongoing stock market crisis. The same is true in the more rarified world of private islands, and while some of these idylls sell for up to US$100 million, others go for as little as US$55,000, a fraction of the cost of the average Hong Kong apartment.
Edward de Mallet Morgan, a Partner with Knight Frank's International Super-Prime Sales Team in London who specialises in private-island sales, said there had been a clear uptick in interest since the first reported coronavirus cases emerged in Wuhan, China, last year.
"For many who are already interested, the current world situation has meant that their resolve, intention and motivation to find a safe and protected haven for themselves and their families has only increased," he said.
"As well as a financial investment, a private island would certainly be an investment in health and well-being and in very special family time. For some buyers, this is the key to real wealth – health and happiness and the family.
"For Asian buyers, there seems to be a driver, not only for the best and most beautiful, but to acquire such properties in an environment which is unpolluted and as pure as possible."
While the coronavirus has spurred buyers to look all over the world, there is particular curiosity about parts of the Americas.
"There's been a definite uptick of interest in freehold islands in recent months, especially in the Caribbean and Central America," said Chris Krolow, CEO of Ontario-based Private Islands Inc and the owner of Gladden Private Island, a bonsai resort on the Barrier Reef in Belize that rents for US$3,695 per night.
"Asian buyers are careful investors, looking for a hideaway for their own use as well as somewhere that will bring in money at a later date, whether they develop it or resell it. And a private island is a definite ego trip too."
Krolow's company lists nearly 700 properties for sale, ranging from the 2.5-hectare Half Island in Nova Scotia, priced at US$59,000, to the nine-hectare Nusa Riro in the Solomon Islands, priced at US$25 million.
Still, while private islands have an appeal as a bolt-hole in times of global calamity, agents urge caution before buyers jump in.
Climate change and rising sea levels are risks, although such factors are a threat to all coastal properties. Potential purchasers should also consider ease of access (taking both weather and distance from the mainland into account), sources of power and drinking water, and local building regulations.
As a result, Asian investors tended to prefer islands that had already been developed, Krolow said.
Immigration issues should also be considered, said Farhad Vladi, who runs Vladi Private Islands from Hamburg, Germany.
"Interest from well-heeled Asian customers has been strong, and over the years we've sold them islands in Canada, New Zealand, Scotland, the Caribbean, and the Maldives, but Panama is especially popular with mainland Chinese due to easier visa requirements," said Vladi, who has been dealing in islands for the past 50 years. "While islands are isolated and relatively safe, they're rarely completely self-sufficient, so owners should bear in mind they will have to have some form of contact with the outside world from time to time."
Islands for sale on Vladi's website range from Round Island in Canada, priced at C$78,000 (US$55,000), to Pumpkin Key in Florida, priced at US$95 million.
Australian Andrew Dixon, a former investment analyst who runs two resorts off Singapore, urged any would-be investor to do their homework.
"The biggest difference between an island and a plot on the mainland is that you have no neighbours so you get a lot of space around you which you have not had to pay for," he said.
"Which country your island belongs to may add to its risk profile. And its value will go up and down with the vagaries of the local property market, exchange rates and economic climate," said Dixon, who runs resorts on Nikoi Island and Cempedek Island that are part of Indonesia's Riau Islands chain.
Dixon said one possible investment strategy would be to set up a private conservation area on and around the island and then sell either carbon credits or conservation credits.
"This would work particularly well if you bought a degraded island and helped to restore it. I think we are going to see more and more people invest in properties to secure them for conservation areas."
Dixon said islands generally sold for less than an equivalent plot on the mainland.
"That discount will often reflect the cost of getting to and from an island and the cost of establishing infrastructure there, so thinking about how you can minimise that transfer cost can also change the perception of the value of the underlying property," he said.
"Bigger islands are usually cheaper on a per-hectare basis but then they typically could become self-sufficient as they are more likely to have a water source, some arable land and space for solar panels."