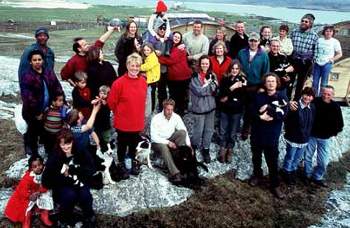 The cast of one of the world's first reality TV shows, Castaway, are reuniting this weekend — 10 years on.
Based on the 60s series Gilligan's Island, the 36 volunteers agreed to go off the grid together on the remote Hebredian island of Taransay, and it was a life-changing experience for many of them.
They were filmed as they struggled to cope with composting loos and eco homes.  They soon found that the production company was tricky and manipulative. One of them sued successfully for libel.This weekend the Castaways meet again for the first time – back on Taransay, this time without the cameras present.
Julia Corrigan was 42 and a teacher, living with husband Colin and their daughter Natasha in a typical British suburb. After the show the family moved off-grid for six years.
She says: "I was so excited at the idea of living on a beautiful, romantic island and leaving normal society. Living off the land in the freezing Hebrides and walking along white beaches was fantastic.
'We married three weeks before we left for Taransay and sold everything we owned, so it was really scary. It was a real community, with all its problems and some strong characters who were over-dramatic.
'People could be selfish. There were factions and petty arguments about who ate the last egg. But there was also fun, lots of singing, dancing and games.
'As a family we had a wonderul experience. It changed our ideas of how to live. We went on to live in the middle of nowhere, keeping pigs and chickens and trying to live off the land for six years.'
Oliver Stephenson was seven at the time – now he is about to go to college: "The things I missed were television and flushing toilets. Sometimes we didn't have much to eat, but it was rewarding to eat what we had grown. I learnt how to knit and splice ropes – I helped make our garden hammock out of fishing nets from the island."
Off-Grid wonders whether the reunion will lead any of them to return to Taransay for good – there has rarely been a better time.