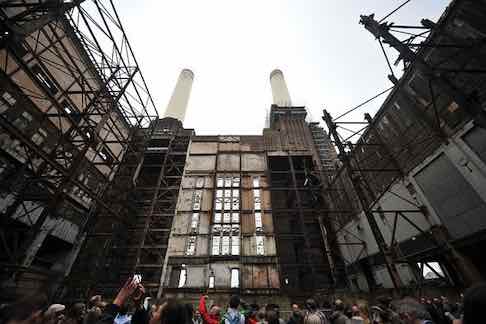 West London, UK – 17.12.2022. A huge housing development on the West side of UK capital city has had to be postponed because the developers cannot obtain a grid connection for another ten years. The problem is overloading of grid capacity due to renewables which need access intermittently at unpredictable times – meaning the grid owners cannot plan ahead and have to leave surplus capacity unused.
It will take up to a decade to bulk up grid capacity and get developments under way again in three west London boroughs — Hillingdon, Ealing and Hounslow. In those boroughs, "major new applicants to the distribution network . . . including housing developments, commercial premises and industrial activities will have to wait several years to receive new electricity connections", according to a note from the Greater London Authority which oversees the capital's utility infrastructure.
Part of this is just bad management by the company National Grid which is also coming under criticism for its operations in the Eastern United States. Part of the problem lies with Utility regulator Ofgem, which has, worryingly, just been awarded responsibility for the future planning of the UK electricity supply.
The problems faced by London are also popping up everywhere else in the world, as the huge demand for renewable energy installation come up against the realities of the current, ageing grid network.
The projects go on waiting lists that can now stretch for years, and many ultimately drop off when the delays become intolerable. In the United States, according to reports in the New York Times, enough renewable energy projects are backlogged right now to achieve a largely clean electric grid by 2030. But without urgent action, most are unlikely to get built.
It is the smaller, local power lines running through state-designated transmission corridors that are the main problem. Strung alongside interstates and highways, they were designed decades ago and are just not fat enough to carry more electricity from solar and wind projects. Unless these lines are upgraded with new wires, connecting too many wind or solar farms could cause the cables to overheat, leading to power outages.
Electrical utilities have been caught flat-footed by the falling costs and rapid growth of renewable energy, says the NY Times. "They simply failed to get ahead of the wave and upgrade their wires, and the state governments that oversee the power business neglected to hold them accountable.
"In every state, a public utility commission is charged with regulating the power business, and for too long the decisions of these bodies have flown under the radar. As the climate crisis worsens and our goals for limiting the damage slip farther out of reach, citizens need to show up and make clear to the utilities and their regulators that they want action now."