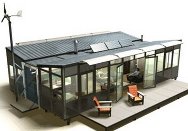 Prefab cabins are the quickest way to a luxury off-grid existence.  Prices can be relatively high compared to doing it yourself, but the pay-off is somewhere quick, andjust as beautiful as the surroundings.
There has been a mushrooming of interest from architects in designing prefab off-grid homes in recent years.  Prices range from $75,000 to $180,000 (US dollars) at present — though this will begin to fall as orders build.  And they all come with integrated electrics, plumbing and a fully fitted kitchen.
Here are some of the best from around the world:
International Housing Solutions (New Zealand)
Habode (861sq ft)
Rod Gibson is a typically resourceful Kiwi inventor. Leaving stylistic flourishes on the drawing board, he produced the steel-framed Habode. It fits into a 40ft shipping container, can be installed in three days, is rated for a cyclone-strength storm and lasts for 50 years. What's more, he says, "Habodes can be relocated in five or 10 years with little or no footprint left behind." The buildings are even recyclable; glass and the paint-free Cor-Ten steel, which weathers to a rust-coloured finish, can be melted. The Habode is a bach (as in bachelor), that iconic New Zealand holiday home often sited near a favourite beach or trout-fishing river. "All the necessary conduits and plumbing required for self-sufficiency are built into the Habode's DNA," says Gibson. Basic and rugged, bachs are, in Gibson's words, "retreats from day-to-day living". '
Form & Forest (Canada)
Trapper (738sq ft)
Undaunted by the global financial turmoil, Form & Forest launched earlier this year in British Columbia, counting on the idea that the appeal of a quiet spot in which to contemplate the stars out of range of a mobile-phone signal will always grow. They hired fellow Vancouverites D'Arcy Jones Design to produce a range of cabins that ship as pre-assembled panels. "This is ideal for delivery on difficult roads," says Form & Forest's Ryan Jordan. The Trapper is the single-unit prefab, built around a large courtyard with an open plan living-room and one bedroom. The cabins can withstand a Canadian winter: "Cross-country skiing from your back door is reason enough for us to build these with energy-efficient doors, windows and wood stoves," says Jordan. A show-cabin is being built near Golden in the Canadian Rockies.
Jonas Wagell (Sweden)
Mini House (161sq ft)
Swedish friggebods – pocket-sized clapboard contructions in the abundant Swedish wilderness – are the cute result of building permits not being required for small cottages of less than 15sq m. Jonas Wagell's Mini House began life as a design thesis in 2007 and is now available for purchase. The prefab flat-pack, based around a timber frame, has simplified aesthetics (think shed rather than mini-mansion) and extensive decking, which isn't part of the building-permit restriction. An optional solar-power kit adds sustainable energy to the equation, or you can go in the opposite direction and select the sauna module. They can also be fitted with cooking or bathing facilities or just a desk.
Andre Hodgskin (New Zealand)
iPAD (538sq ft)
After producing the pioneering Bachkit in 2000, the sleek prefab that swept away the hand-me-down look of the traditional New Zealand holiday home, architect Andre Hodgskin's latest "kitset" house is the smaller but equally smart iPAD. Like the Bachkit, the minimalist iPAD comes with foldaway fittings and single modules can be added together to form L-shaped or linear buildings around enough decking for the largest of barbecues. Already they're venturing from their native shores; one is on its way to a Fijian beach in a 40ft shipping container.
Sustain (Canada)
miniHOME (432sq ft)
Sustain's miniHOME 12×36 California Edition is greener than the cabins of countrymen Form & Forest, with FSC-certified wood, soy-based insulation and non-toxic finishes. "Electrical loads have been minimised," says Sustain's Andy Thomson, "so a small, affordable wind/solar package can take the unit off the grid." The 12×36 California Edition comes with a 4kW inverter to plug directly into a renewable power system. Rainwater is collected from a central downspout and can be filtered for freshwater supply or landscaping and greywater treatment is offered by a third party. With a 0.5gpm showerhead, one-pint toilet and tankless, heat-on-demand hot water, the miniHOME uses less water in the first place. The Extreme Climate edition is designed to use snowdrifts as insulation.
Marmol Radziner (USA)
Rincon 5 (660sq ft)
The Los Angeles-based architects Marmol Radziner launched the Rincon 5 modular home last year; the first four Rincon single-unit prefabs were locked together to form Leo Marmol's own prototype L-shaped Desert House, set around a pool and fire-pit near Palm Springs. The long, low modules are packed with eco-friendly features: FSC-certified (Forest Stewardship Council) Ecotimber bamboo floors, recycled denim insulation, LED lighting, floor-to-ceiling dual-pane windows, non-toxic Green Seal paint and formaldehyde-free MDF. "They can be set up for off-the-grid living," says Alicia Daugherty of Marmol Radziner, with solar panels and, where possible, geothermal heating. Nine of the firm's prefabs have been completed; locations include the Napa and Sonoma valleys, Mendocino County, Malibu, Desert Hot Springs and Utah.