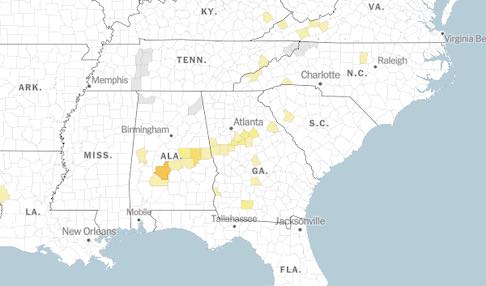 KNOXVILLE, Tenn. — At least seven people were killed on Thursday as severe storms and tornadoes left a trail of damage across the South, officials said. "Tens of thousands of homes" were without power across three States, as well as countless public buildings and private businesses.
By early Friday, tornado watches issued Thursday had expired and the extreme weather had passed, but homes and businesses were still without power as repair crews worked .
In Selma, Ala., videos and images that circulated on social media on Thursday showed damaged buildings, fallen trees and vehicles with broken windows. The Weather Service office in nearby Birmingham, Ala.,
said on Twitter
 that there had been "confirmed damage" in Selma.
The Selma mayor's office said in a statement that the city had "received significant damage from the tornado." It urged residents to refrain from driving and to avoid downed power lines.
Thunderstorms were forecast for parts of Central and South Florida on Friday, along with some possible snow in northern Alabama. More than 500,000 people living along the border of Tennessee and North Carolina were under a winter storm warning as of 3 a.m. on the East Coast.
"A lot of the worst of the weather, it appears, is over," Mr. Oravec said.
More than 6.8 million people across Alabama and Georgia had been under a tornado watch on Thursday, and the governors of both states declared states of emergency.
Alabama's order applied to six counties, including Autauga, which has a population of just under 60,000 people and lies in the Appalachian foothills. In 2011, it was struck by a punishing storm system that killed three people.
Gary Weaver, deputy director of Autauga County's Emergency Management Agency, said on Thursday that there were reports of injuries and damage, including downed power lines, throughout the county. Mr. Weaver said that his office had received reports of some injuries, but that it was not clear how many people had been hurt, or how badly.
And in the county seat, Griffin, violent winds had torn apart buildings and felled trees, according to Jessica Diane Pitts, a resident. "You could hear stuff being ripped to pieces and people screaming in fear!" Ms. Pitts said in a Facebook message. "I hope I never experience something like this again!"
In Mississippi, the state's emergency management agency shared a video on Twitter that showed a home in Monroe County that had been essentially flattened. Other houses nearby sustained roof damage, with debris littering the area.