Everybody loves Polytunnels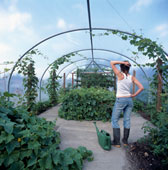 Polytunnels are amazing structures that allow you to have an off-grid vegetable garden literally anywhere. The technology is constantly improving and the best polytunnels can now even withstand hurricane-force winds.
The see through plastic (oil based of course) allows the sun in, keeps the moisture and warmth in and keeps the bugs out.  Some folks use them as a garden shed with plants in.  They are cheap and easy to install.Take the tiny town of Todmorden in Britain and their pioneering Incredible Edible community project.
Todmorden High School has a 12m single-span tunnel to help pupils grow fruit and vegetables for use in the school kitchen. Many town residents are growing their own food this way as well.
From allotments to field-scale production, the polytunnel has become an essential tool for horticulture. The challenges of the weather, financial pressures, ability to update every five or so years and even trends in health and safety are likely to keep it popular.
BEST SELLERS
Sales of small polytunnels are booming thanks to a rise in smallholdings, with many erecting small tunnels and poly-clad houses on their ground. Members of allotment societies and other community groups are also banding together to purchase polytunnels.
The most popular tunnels are the medium-sized 6700s – a 6.7m-wide, single-span structure – and the 7300s, a 7.3m-wide single span. Both use 60mm galvanised structural steel and, being 3m and 3.15m high respectively, give good volume for ventilation as well as offering a good working height at the sides.
'Last year saw record sales of gardening kits,' says Keder Greenhouses sales director Peter Monahan. 'The first three months of 2009 have been even better than 2008. We are doing a lot of mid-sized structures – 4m stands – for allotment groups, smallholders and those looking to grow for themselves and sell the excess. Domestic kits are also doing well.'
HOBBY POLYTUNNELS
At NP Structures (Northern Polytunnels in the UK), sales manager Jason Mears reports a 'tremendous demand' for hobby polytunnels.
At the other end of the scale, large-scale growers are holding off from making investments in new tunnels and polythene-clad structures.
But that could be about to change. Keder, NP and McGregor all report a recent increase in enquiries for substantial projects. Monahan explains: 'We get the impression that many commercial growers are waiting to see which way the economy is going.
The adaptability of poly-clad structures means they can be employed in difficult situations. Showing the flexibility of its modular design, Keder Greenhouses recently constructed a polyhouse on land sloping 100cm in 6m. The company also has structures on the Scottish Isle of Tiree – one of the windiest islands in the world.
FIELD SCALE TUNNEL SYSTEMS
But the area where we see the biggest development is in field-scale tunnels. A brand-new development for 2009 from Haygrove Tunnels is the trellis tunnel system.
Work on the system began in 2007, the target being to develop a tunnel that would be temporary – and so without concrete foundations – but with the capability of withstanding hurricane-force 70-80mph winds. The structure also needed to allow for the growth of crops up to 2.75m high and carry trellis weights of up to 35kg/sq m.
In addition, the system needed to incorporate connecting gutters so that all rainwater could be recycled.
For ventilation it was decided the system should have electrically controlled side walls and doors powered by a remote solar-powered unit And the new structure must provide low-cost glasshouse-type technology on a field scale.
The system utilises a three-part leg comprising a 1m ground anchor, a 40mm x 2mm extra-strong steel leg pole and a trellis leg top. Leg poles can be manufactured in lengths of 2.25m or 2.75m, depending on the trellis height required. The 1m ground anchor and trellis leg top are secured onto the pole using a steel bolt.
A two-way trellis cable is used to support the crop and add strength to the structure. The leg row cable is clamped on top of the Y piece under the gutter bracket using a cable clamp and a cross cable is secured onto a clamping bracket placed on the bolt that secures the Y piece to the top of the leg pole.
Perimeter legs and end-row legs of the trellis structure are made from 60mm x 3mm steel and are anchored to the ground using an 8mm-perimeter cable secured to a 1.6m steel anchor. For heavy crops an extra mid-support pole can be added.
Very simply and cheaply, this mid-support pole can be made from 120mm-diameter treated timber. Alternatively Haygrove will manufacture a 40mm steel support pole to sit on a 1m anchor and to include a top cable assembly for securing the 6mm cross cables.
GUTTERS
Gutters are secured on the new structure using the gutter saddle bolted into the base of the top Y piece of the leg. The material used is a 1m-wide woven fabric weighing 170g/sq m and incorporating a rope stitched into the perimeter of the material. The gutter material is UV treated and has 85 per cent light transmission. It is secured onto the hoop using a gutter clamp every third hoop and a wire clip on the intermediate hoops.
Berry concedes that the construction of the trellis gutter is more difficult on flat sites: 'This is due to the leg poles sitting on the 1m ground anchors and therefore not being able to be drilled into a deeper level to secure the gutter gradient. The only solution to this is to use poles of varying heights – it means poles have to be cut and re-holed on site.'
DOORS
An important next step is the development of automated doors. 'Designed for permanent sites, doors can be fitted and lifted together, up to 130m long, from a single gearbox,' says Berry.
'Gearboxes can be selected for either winding with a manual handle or an electric drill, or can be electrically operated via a battery cell and solar panel.'
It is also possible to link the doors to a weather station so that the doors open automatically based on preset temperatures, relative humidity levels or wind speed.
To further strengthen the doors, three additional features have been added. The first is a central horizontal pipe that is used as a pivot to roll up the door material. Secondly, the 170g/sq m woven fabric employed in the door is significantly stronger than current door polythene fabric. Finally, for exposed ends, extra vertical struts can be added.
USEFUL WEBSITES
NP Structures (www.northernpoly tunnels.co.uk) has a polythene calculator to help determine the amount of polythene needed to cover any given measurement of tunnel.
BPI Visqueen (www.bpipoly.com) includes a guide for identifying polythene suitable for recycling. It looks at what can cannot be handled for recycling purposes.