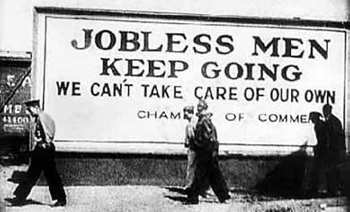 As the Banksters continue to draw their massive paychecks, the rest of us are hunkering down for what looks increasingly like the end of economic growth in large parts of the country.
Everybody knows that the wealthy have in fact been bailed out. Sales of luxury goods continue to soar. At the same time, Jeff Weniger from Harris Private Bank estimates that over 9m Americans without jobs are receiving no support.
For many people that means going off the grid, whether they like it or not.Part of me wants to focus on forcing the Banksters to repay the trillions they have plundered from the real economy in the past decade, while my rational side says that the best way to turn this economic threat into an opportunity is to embrace the end of growth.
Perhaps the right answer is to do both. But the time to do it is now. Urban homesteading, local food-growing, local currencies and barter, solar power and community buying – these are the best ways to hold a middle finger up to the Corporations, especially the $400 billion a year electricity industry
The economy lost 125,000 jobs in June; unemployment is still 10%. For 16-24s its closer to 20%.  The broader U6 rate of unemployment is 16.5pc.At some point this will become very political. Part of the purpose of quantitative easing was to raise asset prices, in the hope that this would course through the economy – and ultimately trickle down.  Its not working.
Recently the New York Times reported from a "musty coffee shop in the suburbs of Portland, Ore., a dozen people occupying scruffy couches  scroll through online job listings, availing themselves of free Wi-Fi, as they pass another drizzly afternoon in the temporary office of the age.
"It has become commonplace, along with possessions piled curbside in front of foreclosed homes. Here is gloomy evidence of a national hunger for paychecks, fresh sign of the everyday calamity coloring much of the American experience….a battle is underway for the nation's identity, a jockeying over the values that will govern whatever follows the Great Recession.
A great many people have lost faith in powerful institutions, from Congress to Goldman Sachs," continues the New York Times. "…. a former homeowner told me of camping in her car after she lost the place to foreclosure…..a man who had earned middle-class wages turning steel into refrigerators broke into tears as he described his inability to provide medical care for a sick child after he lost his job. "I never saw myself as the sort of person who would land on public assistance."