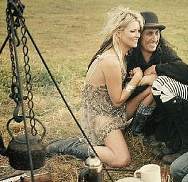 Kate Moss – Glamping When Fashion jumps on the off-grid caravan, is it time to be afraid, very afraid?  The dumbing down has started, you may think.
On the other hand,  if it brings the idea of off-grid living to thousands who would not otherwise consider it, what can be the harm in that?
British supermodel Kate Moss is renowned as a canny trend-spotter who has revived her career time and again with new looks and new boyfriends.
Moss went back to basics for her latest fashion shoot with a taste of gypsy living as she joined a group of travellers for a photo spread for the upcoming issue of V Magazine.
The style chameleon showcased a hippy chic look as she posed in a caravan, on the back of a horsedrawn cart and even perched upon a pony.
But her relaxed outfits were not without a designer price tag.
She modelled a range of high-end labels including Isabel Marant, Chloe Sevigny, Kenzo, John Galliano, Stefanel, and Dsquared.
During the shoot, which took place in May for V Mag, Kate made herself right at home with the community.
She lived with the travellers over the two-day shoot in Shepton Mallet, Somerset and sang and danced 'around the clock' during her visit.
The multi-millionaire was snapped huddled amongst the bearded travellers as she joined the 20-strong group for a rollicking night at their makeshift camp.
Despite shunning local hotels, there was obviously a limit to how far she was prepared to go.
Rather than bedding down around a campfire, Kate instead went 'glamping' – glamorous camping – and stayed in a designer campervan, rather like Off-Grid Editor Nick Rosen when he wrote his book How to Live Off-Grid.